When Rosita Missoni handed over the reins of her world-famous fashion label to her daughter Angela in 1997, she had her sights set on looking after her grandchildren for a while. But only for a while. Why? Because this exuberant and lively lady simply can't sit still. Today, aged 88, she's the Artistic Director of Missoni Home, one of the first-ever Italian lifestyle brands to have grown from a fashion label. The adventure began in... 1997. In other words, just a handful of school runs into her false-start retirement. "It simply doesn't feel like work" says the woman whose unbelievable get-up-and-go is universally admired.
Missoni boasts a truly unmistakeable style. Multi-hued florals, graphic kaleidoscopes and zingy zigzags are all showcased by the brand's now iconic knits. Those zigzags are no other than the herringbone motif that's so well known not just in embroidering circles but amongst interior designers, too, being the design so often adopted for traditional parquet floors. That's the fashion and lifestyle boxes both ticked. Rosita Missoni, née Jelmini, was born into a family of weavers in the northern Italian village of Golasecca in the Varese province. Her parents and their parents before them produced housecoats and bedspreads. Crossing paths with Ottavio Missoni, a handsome Italian athlete who was taking part in the 400m at the 1948 Olympic Games in London, proved to be decisive in shaping her destiny. As well as running at lightning speed, Ottavio was also an up-and-coming entrepreneur who had designed the Italian delegation's uniform. They married and jointly founded a knitwear brand in 1953, which soon made it onto the radar of legendary fashion writer Anna Piaggi, before going on to become a firm favourite of none other than Diana Vreeland, star editor of American Vogue. Rosita and Ottavio crafted a legendary family empire with their own bare hands, focusing on the kind of Italian elegance embodied by the likes of Ferragamo, Versace and Prada. At Missoni, endless combinations of motifs and hues were rooted in joie de vivre, good times and fun. Not to mention art.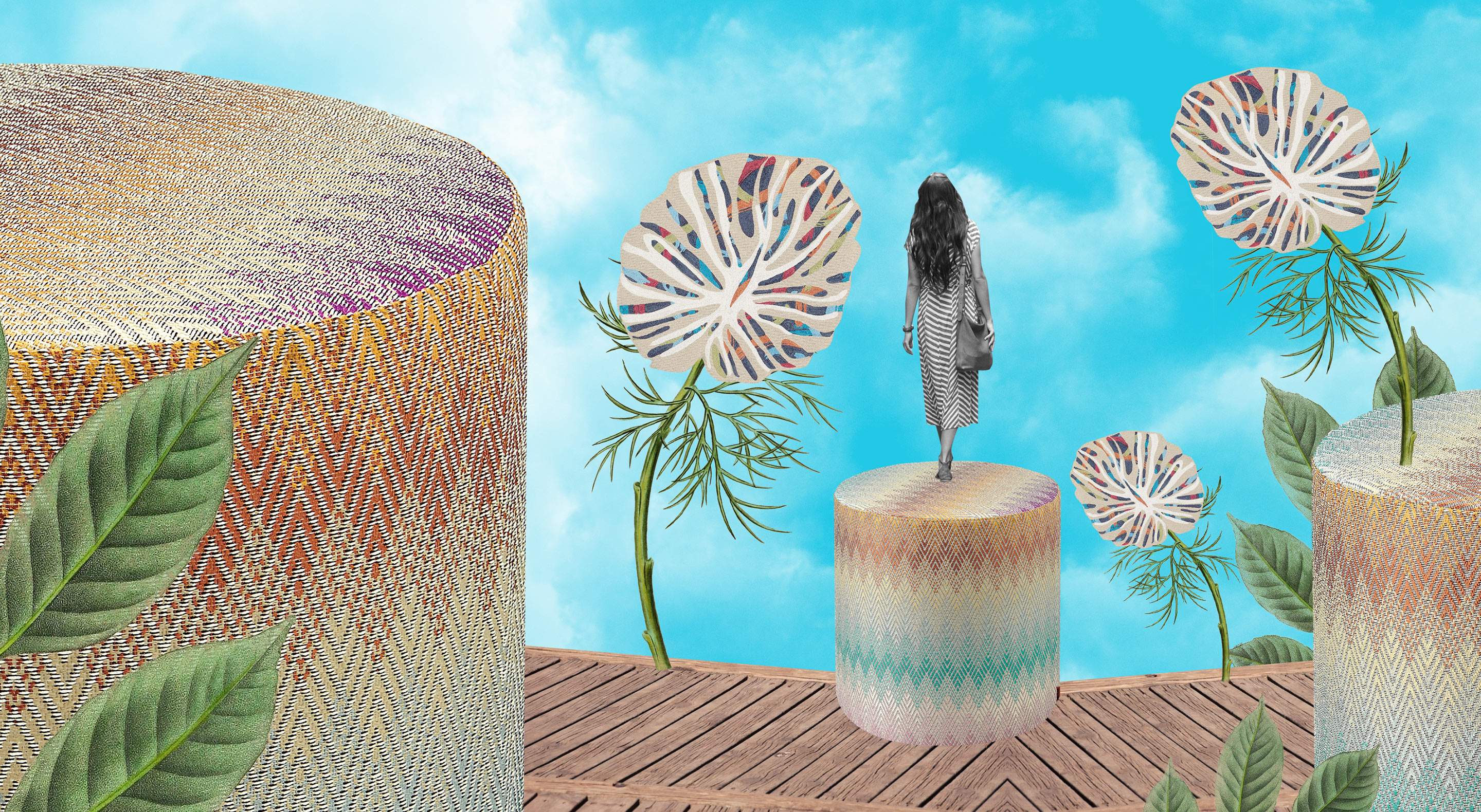 Rosita's decision to branch out into interiors certainly didn't come about by pure chance. "She was one of the first to foresee a possible union between fashion and interiors" explains Patrice de Robillard, the brand's French Sales Director. Just like fashion, "the home is a constantly evolving space of creativity", Rosita can often be heard to say. An old hand at changing direction each time one prêt à porter collection made way for the next, she loved nothing more than giving her interiors a fresh new look each season. And for this well-seasoned traveller, no hotel stay was ever complete without flinging her throws over the chairs and adding her own finishing touches to the flowers. "I've always been passionate about interiors", she says. It has to be said that life has given her the opportunity to enjoy some of the most stunning dwellings, including her 1930s apartment in Milan, her Parisian residence, and the family home in the Italian town of Sumirago, close to the Lombardian factory where it all began.
The brand had already been producing a handful of rugs since back in the 1980s. But when Rosita decided the time was right to launch a full collection, she instantly turned to her brother, Alberto Jelmini, who had taken over the family firm T&J Vestor. What she was looking for was true technical expertise to create fabrics specifically for the home. Her homewares were set to mirror the fashion collections' mix and match vibe, but what was needed, amongst other things, were fabrics that could withstand both wear-and-tear and ultra violet light. The designer delved deep into her own archives, proceeding to enlarge or adapt old sketches. She designed the perfect Missoni home as a colourful space packed with a profusion of artwork and a myriad of motifs. Large sociable tables were made roomy enough to seat children and grandchildren alike.
Nature was invited into every space, notably through an abundance of all things floral. Clematis-like wild passion flower, the designer's own favourite bloom, was singled out to play a starring role. The fusions of stripes, spots, flowers and colours for which Missoni was already so well-known were deftly transposed to rugs, sofas, cushions, poufs, curtains, loungers and bed linen, seeing Rosita sashay smoothly from the catwalks to the world's biggest design fairs. Each January without fail, she makes a beeline for Maison&Objet. "The second our inaugural collections were ready, we booked a stand to exhibit at Maison&Objet", comments de Robillard. "Milan is a very furniture-focused fair, where we exhibit because we produce furniture. But we simply couldn't manage without Maison&Objet, which is the Mecca for interior design and the place where our collections are launched."