Kwaidan Editions is a marriage made in fashion heaven - in more ways than one. The London-based label is the work of husband-and-wife duo Léa Dickely and Hung La, who between them have an impressive decade of combined experience working for Rick Owens, Balenciaga, Alexander McQueen and Céline. "It was never our intention to start a brand," says La, but when the pair found themselves free from in-house roles for the first time, it appeared the next logical step. "We thought the best way to challenge ourselves and to empower ourselves would be to start something of our own," he continues.
Having met at Antwerp's prestigious Royal Academy - La is American-Vietnamese and Dickely is French - the couple bonded over cinema. In fact, their first date was spent watching The Shining and their label takes its name from Japanese director Masaki Kobayashi's 1965 film, based on a series of traditional ghost stories. Dickely and La are film buffs and begin designing their collections by creating cinematic sets. "We really work around a place, a time, a setting," says La. "We construct these intricate movie sets and the clothes have to exist within that." "It's like putting together a puzzle," adds Dickley. "The texture, the smell, the lights and the character."
For their current, spring/summer 2018 collection, it began with sinister-looking motel rooms and Dressing for Pleasure, a compilation of photos sourced from AtomAge, the 1970s fetish bible devoted to rubber, vinyl and leather in domestic settings. When I visit, the mood board in their Kensal Rise studio is an orderly composition of mid-century motel interiors, brutalist architecture, skater girls and Thin White Duke-era Bowie - all through a primary-hued filter. "There's always a twinge of darkness," says La. "We embrace ghosts and spirits."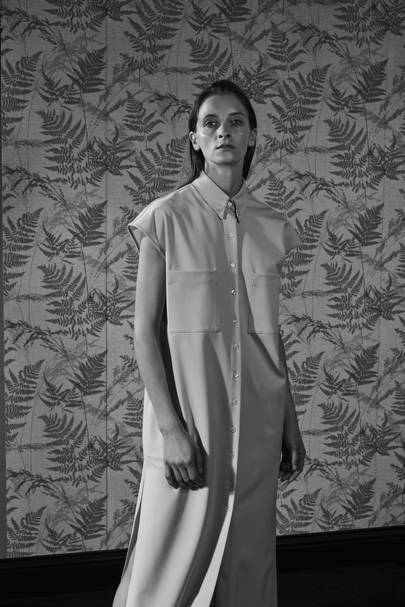 A tension between high-end classics (French-made, nonetheless) and subversion is central to the collection. There's slightly kinky black papery polyester coating, nipped-in Italian wool tailoring, floral chintz prints hand-painted by Dickely, slouchy flares and exaggerated shirts and floor-sweeping shirt-dresses. There's even a perfectly swirled tie-dye T-shirt, a collaboration with a couple of local hippies in Vermont who toured with the Grateful Dead for 30 years. "They came back to us with pine needles in because they hang them out to dry on the trees," La points out.
With an LVMH Prize nomination, the couple will spend the next week in Paris pitching their label to industry insiders and titans including Karl Lagerfeld, Marc Jacobs and Maria Grazia Chiuri. They're adamant that they want to remain under the radar and take it one step at a time, working with their stellar stockists to create in-store installations. "All in good time," says La of staging shows and expanding their offering. "It's about staying the right size for us. We saw the madness that goes into the whole fashion industry. Once you get on the train it doesn't stop and the industry is always asking for more. We have a long term vision and we don't want to burn out."
With retailers including MatchesFashion.com, The Broken Arm, Ssense, The Store and Dover Street Market, where Kwaidan Editions can be found between Céline and Calvin Klein - the label's already on a fast-track to success, and preparing for the spotlight. "We fly under the radar intentionally," says La - but "I think it's time for us to take a step up and to put it out there."