Sarah Staudinger believes that there is an emotional response to finding the perfect shoe. And that a woman should be able to meet her sartorial match in the footwear department without spending a fortune. Logical, right? After the success of Staud handbags, the brand she co-founded with George Augusto in 2015, she's branching out into footwear. In three years, Staudinger predicts that shoes will account for 30 per cent of sales – no mean feat for a brand that was born on Instagram and earned "cult" status owing to her inner social circle of It girls – Harley Viera Newton et al – toting her "Moreau" bucket bags.
Why now? The label initially launched with two shoe styles, but put footwear on hold to focus on handbags. Four years down the line, the gap in the market for accessibly-priced shoes "that can be worn day to night and dressed up or down" remained open, so Staudinger and Augusto found a factory in Portugal and set to work. The result: "Classic styles that have just enough flirt to them," she enthuses of the 1970s-inspired uppers and 1990s-esque heels.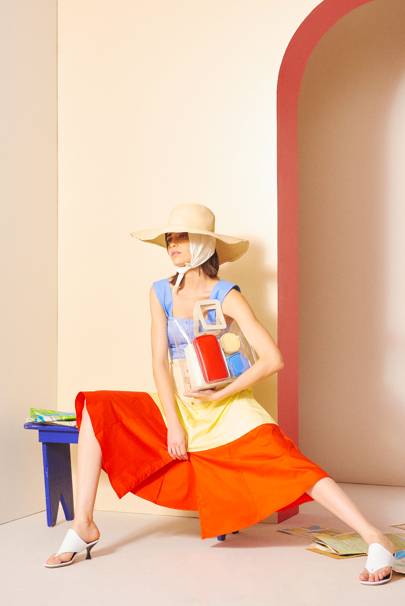 Look closely and there are subtle differences between the pairs – another facet to keep Staud shoes "playful, chic and fresh". The Gita – a strappy heeled sandal – has an asymmetrical strap on the right shoe to "elevate it into something more than just a simply strappy sandal". The Billie – a simple wedge – has a dark suede heel and light blue leather strap on the left and the opposite on the right. "I've always loved taking risks when it comes to colour combinations and shapes, so mismatching our shoes seemed like a good idea."
Shoes, however, are just the start of Staud's grand expansion plan. Confirmed categories are belts and sunglasses straps. But, "all I can say is that we are very interested in travel," says Staudinger. "There are so many ideas, we can just keep adding!"
Stateside fans will soon be able to try on the shoes, which are currently only available to buy online, in a showroom in New York. "As a West Coast-based brand, we want more facetime and interaction between the products and customers," says Staud of the appointment-only space, which will open in March. "Retail, or our version of it, is definitely in the works." Watch this space.