Lady Gaga is back in Las Vegas for the latest leg of her Enigma residency and that can only mean one thing: the return of old Gaga, popstar Gaga, the Gaga more prone to wearing meat dresses than frothy Valentino gowns. Before her first show, the "Born This Way" singer, who swapped stadium stages for red carpets on last year's promo trail for A Star is Born, had one job to do: cut the metaphorical ribbon and open the Haus of Gaga.
The exhibition marks the first time the performer has opened her personal archive to the public, and features some of her most memorable costumes from the various personas she has adopted since breaking onto the music scene in 2001. Of course, there's the aforementioned flesh dress, conceived by longtime collaborator Nicola Formichetti for the 2010 MTV Video Music Awards and preserved like a "piece of jerky". There's the custom Versace bodysuits Gaga wore for her 2017 Superbowl performance, the fake blood-stained ensemble she wore to perform "Paparazzi" at the 2009 VMAs, and the sunglasses made from cigarettes in the video for "Telephone".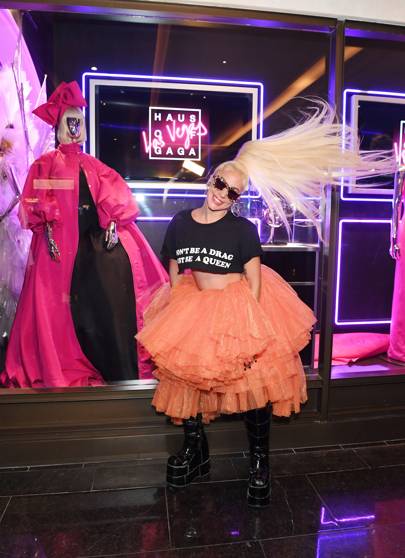 Gaga greeted guests outside the Vegas Haus dancing in a black crop top that read "Don't be a drag, just be a queen", an orange layered tulle skirt and ginormous platform boots. She proceeded to sign walls of the space with a personal caricature and the message "Born to be brave and love yourself" and then positioned herself behind the booth that sells exclusive exhibition products, including the slogan tee modelled by herself.
Among the 20 outfits and 40 wigs and accessories is the Brandon Maxwell gown Gaga wore to the Met Gala 2019. After a string of Old Hollywood moments during awards season, the fabulously over-the-top red-carpet moment, which comprised four looks and numerous props, was a no-holds-barred return to Lady Gaga the enigma, who never fails to keep innovating and surprising her followers. What, however, comes after Vegas?