It's been a mecca for thousands of design, art and fashion fans who make the monthly, quarterly and bi-annual pilgrimage to stock up on the latest editions of their favourite magazines. But soon the well-trod wander through the streets of Soho in search of a rare publication will prove fruitless: on 25 May Wardour News, the exemplary newsagent on Wardour Street, will close its doors after nearly 34 years in business.
"We are closing because of rent going up, and the time is coming for me to have a break," Raj Patel, the 65-year-old co-founder of Wardour News, tells Vogue. "You can't help it. We have to move on with our lives," agrees his brother and co-founder, 83-year-old Ash Patel. "It's very sad that we have to leave but I'm taking with me good things, all my customers, they keep me going. Without the customers I wouldn't be here. I'm always grateful and thankful," Raj adds.
The Patels opened the newsagent on July 16 1984. Initially they offered delivery services to publishing houses and entertainment and model agencies in the area, before expanding to stock a staggeringly comprehensive range of magazines, from Condé Nast's Vogue, Vanity Fair, GQ and Wired, to independent titles such as The Gentlewoman, Fantastic Man, and Self-Service. Fledgling issues have found their feet here. "Any small one who comes here, we support them, give them promotion," says Raj.
Numerous celebrities have patronised Wardour News, Dustin Hoffman being the latest boldfaced name to have popped in for a magazine in the past month. But the Patels don't go in for famous faces. "There are a lot of TV stars, big celebrities, but I don't see TV much so I don't recognise them," says Raj. The only one that springs to mind? "This guy, Jonathan Ross. He's a regular."

Which issues through the years are his favourites? "All fashion, I like to look at these ones," says Raj. "But your Vogue magazine, we do fantastically. Vogue, everyone loves. We always order 100 copies of every issue. Every issue without fail we sell." As for Edward Enninful's first issue, for December 2017? "That one! Must be 300 or 400 copies that we sold. We put a restriction on two copies each, because some people sell it on eBay. But I couldn't get any more copies. We sold out completely and we couldn't get any more."

The Patels still believe in print's power, even after having taken the decision to close. "Today, people are saying online is the best way but still people want the print version. They like the smell of the print. They want to come and look and feel it and buy it," says Raj.

In tribute, Vogue asked five people in the industry to share their Wardour News memories.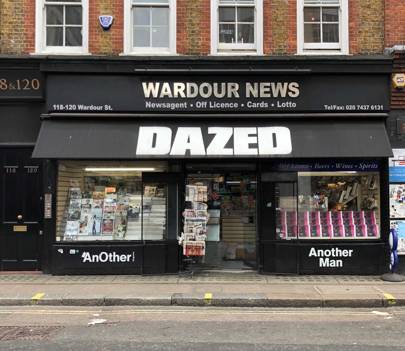 Jefferson Hack, CEO and co-founder Dazed Media

It was the summer of '91. Justin Robertson's remix of The Stone Roses "Waterfall" was playing in the clubs and the first issue of Dazed & Confused, a black and white, poster magazine was spat out of a printers in south London. I was 19. Wardour News was iconic even then. We used to drink on Wardour Street and we used to buy iD, The Face and import copies of Interview magazine from Wardour News. I remember going in and asking them to take some copies of that first issue. They took them and instead of putting them straight on display they put them behind the counter. I was so impatient I put a few extra copies on one of those metal revolving displays outside on the pavement. Dazed & Confused was now eye-level in front of the International Herald Tribune and Newsweek. I remember sitting there all afternoon to see if anyone would buy a copy. It took about three hours and then some kids bought one and it was legit. Dazed & Confused was a real magazine. It's amazing that for the last few years the Dazed logo has been on the awning above the shop. We literally have come full circle. I'm really sad to hear their era as London's best magazine agent is now coming to an end. The rent hikes in Soho have closed down so many of the small business that have been the heart and soul of the city centre. Thank you Wardour News for being such great supporters of the indie press and particularly Dazed & Confused.

Frances von Hofmannsthal, editor-in-chief, Luncheon Magazine

Wardour News was the biggest source of joy for anyone passionate about magazines. Mr. Patel and the staff at the newsagents had so many years of expertise; they would guide you to new titles or recommend different kinds of mags. It is this dialogue and knowledgable exchange between the owners and the buyers, often students being introduced to titles for the first time, that will be so sorely missed. I cannot describe the feeling of excitement and pride at seeing the first issue of Luncheon at Wardour News amongst so many other brilliant magazines.

Ben Reardon, journalist

Wardour News was an institution for everyone interested in print media. You were always guaranteed to discover the latest, greatest magazines that would go on to inform and inspire. From biannual to independent fanzines, their selection was second to none - and with the added accessibility of being a newsagent. During my tenure as editor-in-chief at Man About Townmagazine we were based in Soho, and it was a perfect street level barometer to see how the latest issue was performing. When the magazine launched, we would pop down during various points of the day and pretend to be customers and it was always a thrill when they would say it was a best-seller. The guys working behind the counter achieved their own moment of cult cool when they launched an issue of Marfa Journal with a drinks reception in-store of which they were the cover stars. RIP VIP.

Alice Rawsthorn, author of Design as an Attitude

What very sad news, not only for everyone who loves magazines, but for Soho. It's silly to wax nostalgic about the demise of Soho's seedy side, which was synonymous with sleaze and exploitation. But Wardour News was a legacy of its feisty, cosmopolitan culture from the 18th Century onwards. For years, I'd arrive early to meet friends in Soho, just so I could browse around Wardour News. Walking in and seeing so many newspapers and magazines from all over the world was always a thrill.

Edward Enninful, editor-in-chief, British Vogue

I remember popping in often when I was growing up. It's really sad to see it go. It's the end of an era.