Phoebe Philo is to leave French fashion house Céline after 10 years as creative director. The autumn/winter 2018 collection, which will be presented at Paris Fashion Week in March 2018, will be the British designer's final collection for a brand she has transformed with her signature modernist style and sell-out accessories. Until a new creative director is named, WWD reports that the label's collections will be designed by Céline's in-house design team.
Philo's departure comes after months of speculation that a move was in the works. In a statement she said: "Working with Céline has been an exceptional experience for me these last 10 years. I am grateful to have worked with an incredibly talented and committed team and I would like to thank everyone along the way who has been part of the collaborations and conversations. It's been amazing."
"What Phoebe has accomplished over the past 10 years represents a key chapter in the history of Céline. We are very grateful to Phoebe for having contributed to the great momentum of this Maison," said LVMH chairman and chief executive officer Bernard Arnault. "A new era of development for Céline will now start and I am extremely confident in the future success of this iconic Maison."
Known in the industry as a bellwether of immaculate taste, Philo's minimal, discreetly luxurious aesthetic has legions of disciplines, the self-styled "Philo-philes", who wear her sharp-shouldered suiting and swing her block-colour bags from their elbows with singular pride. She joined Céline from Chloé in 2008, having taken a two-year maternity leave - a move that was itself highly unusual in an industry that rarely accommodates stoppage - and immediately set about revitalising a label that previously had very little personality, having been founded as a children's shoemaker by Céline Vipiana in 1945.
She enlisted the art director Peter Miles to reimagine the logo, inspired by a mid-20th-century Italian font found in an old type specimen book, and executed in a stark "left in the sun black" on creamy white. Juergen Teller was procured to shoot the ad campaigns, which have variously featured a make-up-free and knotty-haired Daria Werbowy, the French ballet dancer Marie-Agnès Gillot and the inimitable, 81-year-old Joan Didion (the internet imploded).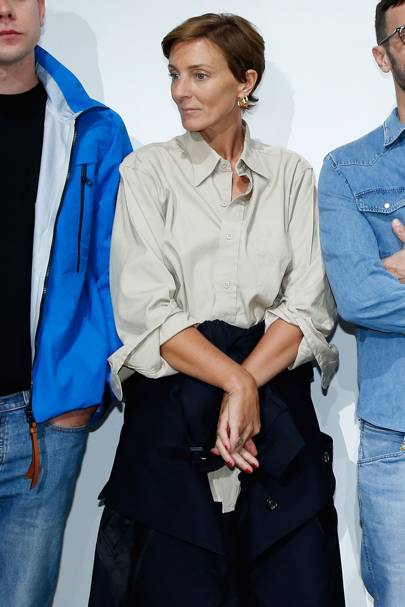 As for the wardrobe components, Philo, 44, made them in her image. Sharp, refined, discreet, new, were all buzzwords that she placed at the heart of the brand. Trench coats, suiting and black evening dresses - all cut just so, recognisable from thirty, forty, fifty feet away - made them manifest. She shies away from imposing abstract concepts on her collections, and from discussing them with the press - these are clothes for women with shit to get done, which includes their creative director - though this season made an exception backstage at her spring/summer 2018 show, telling Vogue: "I wanted it to look optimistic. It felt personal to me. I felt like celebration. If there is anything to say at the moment, let it be with love. Let it be joyful." For spring, she imagined the Seventies Céline woman, "this kind of Avenue Foch lady that I've always been intrigued by. The idea of that woman is one of the reasons why I wanted to work at Céline."
Exuberant sales reflect the esteem in which Philo is held with her customers. LVMH does not release individual figures of the brands in its stable, though its report for the first half of 2017 detailed that "Céline posted solid growth, buoyed by successes across all product categories. In leather goods, the Classic and Belt models performed especially well." Philo's skill with leather goods is virtually unsurpassed in the industry - as other brands struggle to create "it" bags, she churns them out with ease, as a glance through any selection of street style photography will prove. For a brand with such a modern aesthetic, it's perhaps confounding that its clothes are not available to buy online - though this is all part of the mystery in which Philo has enveloped the brand, not to mention herself. She rarely gives interviews and has no social media presence, once telling Vogue: "The chicest thing is when you don't exist on Google. God, I would love to be that person!"
Thanks to her impulse for discretion it will be hard to predict where Philo will go next - she's certainly giving nothing away. Philo's name is being mentioned, however, in connection with Burberry. Long rumoured to be the successor to Christopher Bailey, who stepped down after 17 years with the company in October, Philo has the English spirit and reinvention credentials to turn around a powerhouse whose gloss has started to rub off in recent years. Plus, it would mean a reunion with her former colleague of eight years Marco Gobbetti, now Burberry's CEO, who fuelled double-digit growth in partnership with Philo at the Paris house.

Either way, fashion-watchers will be heading to stores to snap up what's left of her Céline collections. Here's hoping the North Pole and its residents get the memo.