Sophia Webster is following in the footsteps of Rihanna by collaborating with German sportswear giant Puma on a line of trainers and - for the first time baring the shoe designer's name - a line of womenswear.
Known for her tropical, colourful and irreverent take on footwear, the designer has ensured that this collection strays little from the aesthetic that saw her pick up the Vogue/BFC Fashion Fund award in 2016. Trainers and sliders come laced with her signature butterfly design, while the clothing is tailored to those - like Webster - who place dance at the front of their exercise regime: sheer leotards, cut-out leggings and crop-tops emblazoned with an Instagram-friendly unicorn design.

Joining the likes of Cara Delevingne, Rihanna and Kylie Jenner who have all worked with Puma over the last few years, Webster's collaboration will introduce her signature to Puma's loyals, while those that collect her Bibi Butterfly, Lacey and Rosalind styles will welcome the addition of a Webster-altered Puma creeper into their everyday wardrobe.
As the collection launches, we caught up with the London-based designer to talk perfect collaborative pairings, how rhythm informs her work and the prospect of branching into womenswear.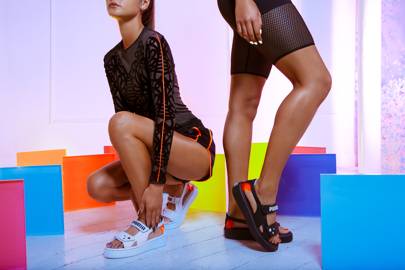 This is the first time that your shoes need to consider function and performance - how did this inform the creative process?
I take weekly dance classes with Sarah Richards, a childhood friend and professional dancer, and my friend Joelle d'Fontaine a dance and fitness instructor. We had a mini focus group to discuss comfort, favourite apparel and shoes to dance in and went from there. I designed the collection exactly how I wanted it to look and worked with the experts at Puma to make sure the fit and functionality was spot on.

Did you find that this limited your creativity at all?
I consider limitations a challenge. I love figuring out ways to bend the rules to get the product looking exactly how I want it to. Like my shoes and bags, there are restrictions in certain materials and techniques with rules that suppliers try and make you stick to. I like to push the boundaries.

There are also ready-to-wear pieces - how involved were you personally with these?
Partnering with Puma has been fantastic as they allowed me full creative control of all the entire collection of footwear and apparel. So, for me it was my first opportunity to design ready-to-wear and think of how my aesthetic would translate into womenswear. I have loved the challenge.
What do you think is the key to successful brand partnerships and collaborations?
I think the best collaborations are when they make sense with the brand's aesthetic and feel like the right fit. I only agree to collaborations if I can immediately visualise in my head how the end product would look. If I get inspired and excited by that then I'm up for it. With my dancing background (I used to compete nationally in freestyle disco dancing competitions) and the fact that dancing is my favourite and only form of exercise, designing a dance-inspired sportswear collection with Puma seemed like a dream collaboration. Not only is Puma a leading sportswear brand but it is innovative, it takes risks - I love that. I have enjoyed the process so much and feel super proud of the collection.

How did this collection start?
I started posting some videos from my dance classes on my Instagram. I'm not sure if that is what got Puma's attention or if it was fate, but the brand approached me. I had been itching to get into sportswear for a while so I knew it was right and I was so excited to get going. Designing apparel was a completely new world for me. I wanted to offer individual statement pieces that you can not only wear to dance or the gym but also incorporate into your everyday wardrobe or for a night out.

What was the key inspiration?
The collection is dance-inspired. There is a variety of vibrant and colourful pieces using tropical graphic prints on crop tops and black leggings with side-panelled details and oversized tees. I took inspiration from my signature black suede Mila heels when designing the bodysuit which has black ornate hand-drawn flocked detailing over stretch mesh. It's always been important to me to offer something for everyone in my collections, whether it is a statement embellished shoe or a simple black pump. I wanted this collection to reflect the way I design by offering the same variety. It was important for me to include my own aesthetic on a classic Puma silhouette. The Puma suedes combine a pastel colour palette with bold pops of neon and a multi-coloured speckled translucent sole.

Where do you find yourself to be most creative?
I think I'm most creative when I'm travelling - I usually come up with the best ideas sitting in traffic in an Uber when my mind has time to wander with no distractions! I have an Apple Pencil on me usually so I can quickly sketch into my phone and email off to my design team to start working.
This collaboration exposes you to a new customer base - what do you want them to take away from the shoes?
I hope they feel they have bought something that is creative and unique. If someone is going to part with their money, I want to make it worth their while.

Do you have a favourite piece?
The reversible bomber jacket is my favourite as it includes both characteristics of the collection. The playful tropical prints on one side with the reverse featuring black textured tonal detailing offer the versatility of a bold statement jacket as well as being sassy but sleek everyday bomber.
Who would you love to see wearing Puma x Sophia Webster?
There is a dancer I follow on Instagram called Jade Chynoweth who I am obsessed with. When she posts a new dancing video, I always watch it a million times over - she is crazy talented! I would love to see her dancing in the collection.