As Artificial intelligence expands, we are being observed and categorised in parts of our lives that weren't previously watched. Now, our clothes are monitoring our behaviour too.
Tommy Hilfiger has expanded its Tommy Jeans line to include a tech-focused sub-division called Tommy Jeans Xplore. Each hoodie, accessory or denim style has an embedded Awear Solutions' Bluetooth low-energy smart tag, connecting the product to an iOS app, which acts as an incentivised point platform. Customers will be awarded gift cards, concert tickets, discount codes and access to exclusive brand events for wearing the Xplore products, and passing US Tommy Jeans outposts.
"Never before has a brand been able to understand how the consumer truly uses the product after it leaves the store," Liron Slonimsky, chief executive officer and founder of Awear Solutions, commented on the intergrated technology. But, the company's aim to connect with its community of highly-engaged micro brand ambassadors is thwarted by the fact that a smart tag can't go deep into human experience. An app can't understand what a customer is thinking or feeling aside from responding well to classical conditioning. In other words: rewards.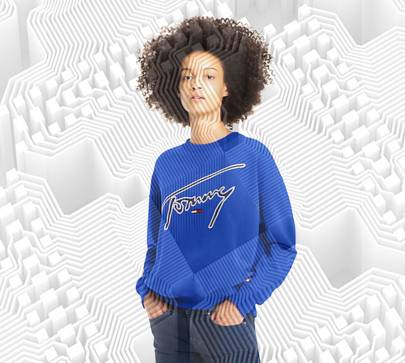 Uncertainty lies in whether customers relinquish control of their personal data to Tommy Jeans by wearing its 23 Xplore items. And does Tommy Jeans have the authority to share the data with the other global Tommy Hilfiger brand divisions? Or with competitor brands? With breaches of trust coming to light, like Facebook's Cambridge Analytica case, it could seem hard to quantify a pair of gig tickets against inclusion in a fashion powerhouse's data engine.
Privacy and personal safety is afforded by data encryption and the ability to turn off tracking via the app. Disconnecting from Tommy, however, means that wearers will be disqualified from receiving rewards and shut out from the Tommy Jeans Xplore community temporarily. Being part of the brand experience comes at the price of being switched on full time.

As AI advancements continue to break down barriers between company and customer, and buzzwords such as "trackable fashion" are bandied around, we're forgetting another phrase of similar prominence: "traceable fashion". In the quest for newness, let's hope the industry focus doesn't shift away from the main transparency crisis it's facing: sustainability.