Three years ago Faustine Steinmetz was a girl who had taught herself to weave via YouTube tutorials. Now she's hosting her first catwalk show at London Fashion Week.
"I thought I'd never do catwalk," muses Faustine Steinmetz. The 31-year-old Paris-trained, east-London-based designer, who launched her eponymous brand at LFW in September 2014, has executed a series of thought-provoking exhibitions in recent seasons variously presenting her models in peep show-style Perspex cubes, in museum-like white alcoves covered with crystals and blue metallic body paint, or with disembodied limbs poking out of walls. For spring/summer 2018, however, she's shedding the conceptual sets and instead placing the focus firmly back on her clothes.
"The last presentation, I didn't enjoy on a personal level. I had to explain my work, and I thought, 'I don't want to be here' – so it was time for a change, because otherwise it would show in the work," Steinmetz says in her heavily accented tones, running her hands through her chin-length chocolate brown hair, in a preview days before her show at her east London studio. "I wasn't overwhelmed – more bored. I needed another challenge, something more exciting. And the relief of being able to just take care of your clothes? I quite love that."
This season she will focus on 10 items of clothing that she deems universal: a pair of jeans, a trench coat, a pair of tracksuit bottoms among them. She plans to reproduce these in different finishes and fabrications, for instance in hand-woven indigo from India which has been pulled apart; in denim fibres meshed onto tulle that's been coated in little silicone waves with the texture of an artist's palette; in hand-woven yarns that have been inspired by an old Burberry trench coat unearthed in a car boot sale. "It's about repetition," she says. "It explains what I want to do with my brand: I want to repeat just normal clothes and work on the textiles, and by the textiles, I can make them go beyond what they normally are."
Steinmetz has always stuck to her guns - when she breezed through the reception of the LCF campus where I was waiting for her that morning, I had noted her purposeful walk. Also her natural rebelliousness: as we reached her studio, her pomerian, Buzz, hopped out of her canvas shoulder bag, seemingly out of nowhere. "He's not allowed in here, so I have to hide him," she giggled. Some of the strongest pieces in her spring collection continue what Steinmetz has set out to do ever since she bought a loom on a whim for £150 from the Handweavers Studio in Finsbury Park, and taught herself to weave from YouTube tutorials: they reenergise the artisan.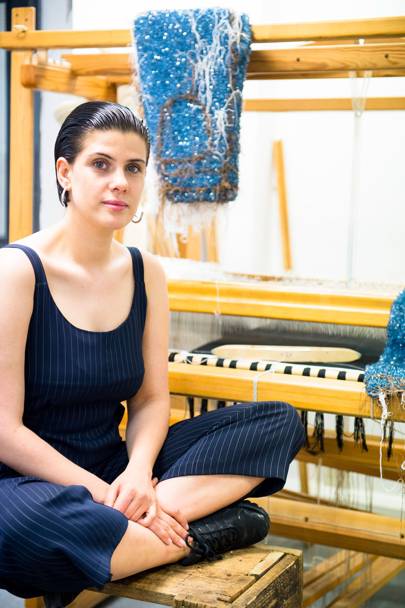 This season she's excited about a technique whereby she has tweezered apart fibres from vintage pairs of jeans sourced from a shop in Whitechapel ("it's closing! It's the end of my business!" she jokes), refelted them and printed a pair of standard vintage jeans on top. "I love that it looks like it's disappearing, as though it's made in lace," she says, delightedly.

It hasn't all been plain sailing. Losing the LVMH prize in 2015 knocked her confidence significantly and forced her to question whether she was "even a fashion designer at all".

"I felt I'm not like the other designers - I take pieces that already exist and I remake them. It's quite a specific way of working for a designer. After I lost LVMH, I was so tired of the whole thing. And last season was the nail in the coffin. I tried for it to be commercial. I tried for it to be fashionable. I tried for it to be feminine. And in the end? I felt so unhappy. The clothes looked good, they were beautiful, I liked it - but is this what I envisioned when I was 15, imagining my brand? No."

Steinmetz's method doesn't negate a commercial model. In fact, she considers this collection her most commercial yet. "I think that's why I'm so happy with this collection. What most people will wear is a normal pair of jeans. We're making recycled denim – old pairs of jeans, reworked with a little twist. But when I do crazy fabrics, people want them too. So all my handwoven things, the silicone, I decided not to compromise any more and just do what I want."

She'll keep things in limited edition, because it's unsustainable not to, but that will just add to their cache. She barely pauses for breath. "Let's be radical. I'm not doing this for the money - although we do live from it. I'm doing this because it's a passion thing, since I was a kid. So I need to do it the way I want."

Faustine Steinmetz will show her spring/summer 2018 collection at LFW this Tuesday, September 19th.