Could tennis champion Serena Williams be the underdog on the Met Gala 2019 red carpet? As co-host of the fabulous fundraiser along with Lady Gaga, Harry Styles and Alessandro Michele, she will be rubbing shoulders with some big characters, whose grandiose senses of styles will only be accentuated by the night's dress code: camp. Of course, Styles will be in Alessandro Michele's Gucci. And Gaga will reprise something as headline-grabbing as her ode to Audrey Hepburn at the Oscars (complete with the same largest yellow diamond in the world), which will be shrouded in secrecy until the Big Reveal breaks the internet on the evening of May 6. But what of Williams? There are myriad avenues she could go down.
The racket record holder has a history of making sartorial statements on the court. When her black Nike catsuit, which made her feel like a "queen from Wakanda", caused ripples with the French Tennis Federation, Williams graciously accepted the direction to "respect the game and the place" and turned up to her next match wearing her exclusive collection with Virgil Abloh. Tennis whites? She gave them Off-White. And Nike, who completed the holy trinity of sportwear collabs, posted a picture of Williams with the viral caption: "You can take the superhero out of her costume, but you can never take away her superpowers." Williams just did it.
The Grand Slam tie-up leads us to our next piece of evidence: the tutu-embellished tennis dress she designed with Abloh. The tulle flounce has parallels with her feminine red-carpet wear – and her wedding dress. She married Alexis Ohanian in November 2017 wearing a strapless McQueen gown with voluminous skirts and a cape, and then changed into a second feathered Versace minidress for the evening part of the Beauty And The Beast-themed reception. Anyone who chooses "Tale As Old As Time" as their first dance is fond of drama – therefore, we can presume Williams is pumped for the Met Gala 2019 theme.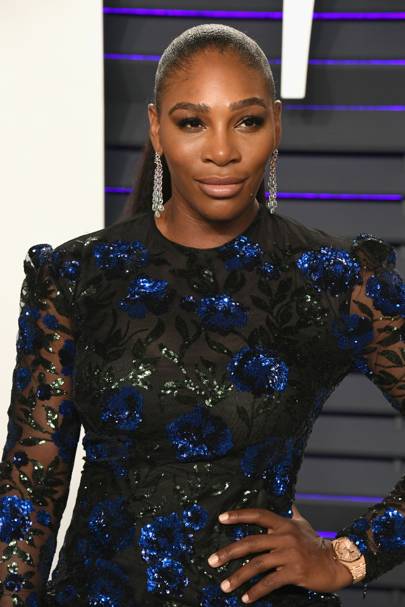 Versace is a brand that she has often leaned on for bespoke commissions for off-court Williams. The last time she attended the Met celebration for the opening of the 2017 Rei Kawakubo/Comme des Garçons: Art of the In-Betweenexhibition, Williams wore an emerald-green halter-neck gown enriched with beaded accents. It wasn't a literal take on the conceptual theme of the night, but the pregnant star looked resplendent alongside her then-fiancé. No wonder she commissioned Atelier Versace to watch her friend Meghan Markle marry Prince Harry and become a princess in May the following year.
Williams, however, is not die-hard Donatella devotee. From 2010 to 2013, she wore a lot of Burberry and dabbled in Victoria Beckham. She has mixed household name brands, like Tom Ford, Armani and Ralph Lauren, into her wardrobe; embraced all-out glamour in Giambattista Valli, Vera Wang and Valentino; and championed under-the-radar labels, such as Catherine Malandrino and Torn by Ronny Kobo, too.
Her own label, Serena – a direct-to-consumer line of sportswear and evening wear that mirrors the two realms the public sees Williams exist in – also sheds light on her proclivity for fashion that says something. "I wanted to do something different," she said upon the launch of Serena in 2018. "You know I love to be different." Williams went on to say that having her daughter, Alexis Olympia Ohanian Jr, put her wardrobe into perspective. "I actually want to look better," she added. "I want to always be stylish, so I have to make more of an effort because I have the baby."
As she says in Nike's "Dream Crazier" advert – which sees her metaphorically high-five female athletes for their accomplishments in the face of gender discrimination – "Show them what crazy can do." Williams, as per own word, has won 23 grand slams, had a baby, and come back for more. No wonder she was asked to be a co-host – that kick-ass mentality is always welcome on the red carpet.