Hong Kong welcomed Pharrell Williams with open arms. With one of the world's most memorable skylines as the backdrop for the Men's Pre-Fall 2024 show, the first Louis Vuitton (PARIS:MC.PA +0.87%) men's collection to ever be shown in Hong Kong, brought in guests from around the world, including global superstars from South Korea, China, Japan and more. Located right on the Tsim Sha Tsui waterfront overlooking the picturesque Hong Kong skyline, the location set the tone for both the collection and gave a nod to the brand's strategic direction and focus towards the Asian market.
Pharrell's debut show set the bar high as it saw pop culture's royalty — Beyoncé, JAY-Z, Rihanna and more — attend. The pomp and circumstance of Pharrell's first show with the house saw a live gospel performance by Voices of Fire as well as one from Pharrell and JAY-Z to cap off the night. For his second showing, Pharrell brings Louis Vuitton to the vibrant and eclectic city of Hong Kong, a spectacle in itself. As a part of their invitation, show attendees received a t-shirt featuring a playful and colourful graphic of a beach island scene, setting the tone for the collection ahead. As evident in this show and the last, Pharrell is no stranger to using vibrant colors to accent traditional patterns like the Damier, as seen on cloud like sandals and Keepall bags. Almost an ode to the colorful cityscape and sunny beaches of Hong Kong, the collection itself is resonant and astounding. In an exclusive conversation with Hypebeast, Pharrell explains the concept of the show and how the city of Hong Kong inspired the collection and presentation,
"It was inspired by the idea of a businessman in Hong Kong who has decided to spend a week or so in Hawaii on holiday. But in the middle of his trip, he has to go back to Hong Kong for one day for a meeting he couldn't move. The archetypes that we chose were like a sailor one and an another archetype was one on holiday. There's a lot of floral inspiration, a deep dive into exotic colorways, interesting pairings of colors. The silhouette that you're going to see is consistent with what I'm infatuated with when it comes to formal…which is the future of chic, dandy in a sailor suit, dandy in resort holiday."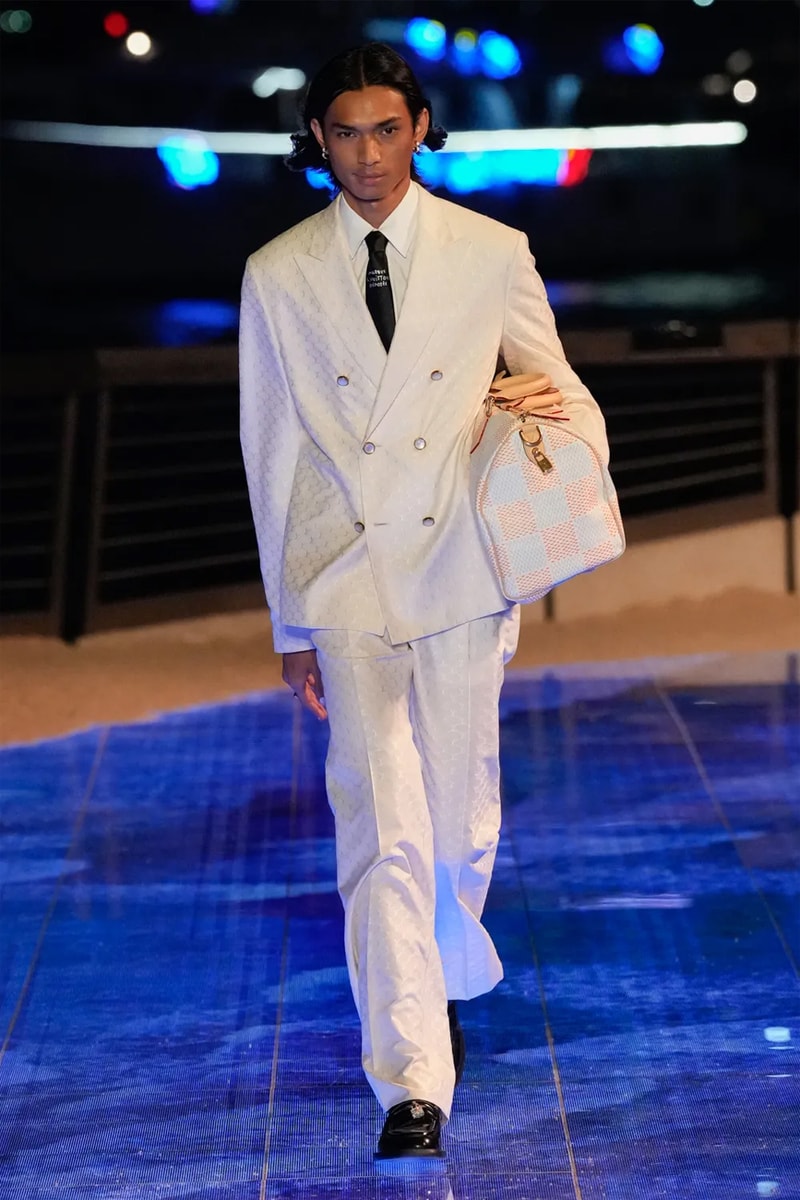 Significant to some, the show in Hong Kong lands a couple days following the second anniversary of Virgil Abloh's death. As a subtle nod to the late-designer, Pharrell continues his legacy, bringing his own unique play on colors with heritage Louis Vuitton emblems, patterns and styling. Hypebeast spoke to Pharrell about how he hopes to carry on Abloh's legacy while moving forward with his own at the house and in a matter of conviction Pharrell said, "V's legacy for me is something I want to hold up and always want to give reverence to while I'm at Vuitton." Pharrell remembers the past, talking about when he first started with Marc Jacobs 20 years ago and the viral photo of Kanye West, himself and Abloh wearing the Millionaire sunglasses, "Never in a million years did I think I would be doing anything after sunglasses." Pharrell talks about how when Abloh was appointed he felt that they were "intrinsically" tied.

In the conversation, the multihyphenate designer shares a story that highlights where he got the idea of "LVERS" and it starts with Abloh attending his first ever Something In The Water festival in his home of Virginia and later Pharrell going to Paris to support him when he was appointed at LV, "He came from Paris to VA. Paris to VA…and when I got appointed, I'm from VA and we went to Paris. In Virginia, our state slogan is 'Virginia is for Lovers' so when you see 'lovers' it's where it all started." It is evident that Pharrell holds Abloh close in everything that he does with the house of Louis Vuitton and that it is all tied together at the end of the day.

Under Abloh, skate culture has always been incorporated into his design ethos and Pharrell carried this on. Much of his influences continue on to footwear in the form of sneakers and bold patterns. Modern silhouettes adorned the runway to match the theme of Pharrell's modern day dapper man. Versatile silhouettes take you to from beachy to formalwear in an instant, making it fit for the modern day businessman. Footwear saw exaggerated sandals and sneakers inspired by the formality of loafers arriving in vibrant hues. For the minimalist, the Damier pattern arrives on the suede mule in tonal camel brown. As for the beach theme, the island getaway fantasy was a common print on button down shirts, Keepall duffle bags as well as full suits. Staples including denim shirts, varsity jackets and more adorned Pharrell's signature "LVers" motif, matching the drone show at the end where the text was seen in the sky.