If you have booked cinema tickets to see The Gospel According to André, the Kate Novack documentary exploring the life of American Vogue's former editor-at-large André Leon Talley, expect glimpses of his fabulously flamboyant high-fashion lifestyle. But also prepare for a quieter Talley, one who retreats to the quiet haven of his scenic home in White Plains. And a reflective character, who contemplates on his strict upbringing and how tireless fashion study enabled him to forge a path from North Carolina to the hubbub of New York City. "You can be aristocratic without having been born into an aristocratic family," Talley tells the camera at one point.
The spotlights on his formative years when he was fresh out of college and interning with Diana Vreeland at the Metropolitan Museum of Art, working the social circles in The Factory and Studio 54, and then as a hungry Women's Wear Daily editor at the international fashion weeks are brilliant and much too fleeting. To delve further into Talley's commitment as a young African-American gay man to make it in an industry he had loved and learnt about from afar for so long, British Vogue got Talley on the phone.
First off, he's chuffed with the film. "It is exceptional, emotional and very elegant," he enthuses. "It's validated who I am. When Edward Enninful became editor-in-chief British Vogue, he said so kindly, 'you paved the way for all of us'. That is what the film means to me."
Talley, who will turn 70 on October 16, hopes the documentary has the potential to be used as a "learning tool for future generations in schools, universities, colleges and groups" in order to illustrate that fashion is open to everyone. Vogue, for him was his "escape universe" as a 13-year-old living with his church-going grandmother: "The images, the captions, the words from Vogue were the landscape of my mind." So rich was his understanding that when he moved to New York in the early 1970s, he felt immediately at home. "It was exactly as I'd imagined and more, the people were larger than life," he says name-checking Halston, Pat Cleveland, Carrie Donovan and Diana Ross among his first acquaintances. "I don't know why they welcomed me, they just thought I had something to offer. I wasn't turned away by anyone."
The turning point for his career, he recalls, was when he met Andy Warhol through Vreeland, two mentors, who along with Anna Wintour, "opened the doors, no the floodgates" for him. He came across Warhol in October 1974 when walking down the street carrying a portfolio of clippings from his reports on the Rhode Island School of Design social scene. By December the same year, he had a job at The Factory, under the recommendation of Vreeland, who had been impressed with his mannequin-dressing skills at the Met.
"It was wonderful," he remembers of working under Warhol. "It was like being in high school. We worked hard, it was a professional office, but it was also a social club. Everyone in the Warhol universe was equal, and it was all just a blast."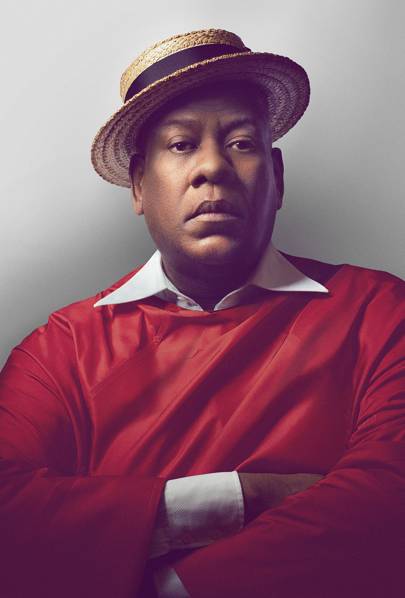 By the time Studio 54 was transformed from theatre to nightclub by Steve Rubell and Ian Schrager in 1977, Talley was going out four nights a week. "It was a liberated society. Drag queens were equal to the socialites," he says, giving shout outs to Grace Jones and Debbie Harry – just two of the icons he met during that time. "I danced until three or four in the morning, went to work at 8.30am, and put in a full day. When you're young you do things like that."
He plays down his rapid career trajectory as a fashion editor. "I just got up and went to work every day," he says matter-of-factly. "I didn't think about living the most glamorous life, I was just in the world I was meant to be in." Whether it was his grandmother – "I could do no wrong in her eyes" - or Vreeland who gave him this self-assurance is unclear, but it is the latter whom he refers to time and time again, and who seemingly shaped his grandiose, flowery lexicon and being.

"She was extraordinary," he says. "She was dramatic, passionate, exciting. She spoke like an author writing a chapter in a novel." He credits her for teaching him how to really look at clothes through the eye of fine dressmakers, and rooting everything back to beauty, not opulence. When asked whether he feels that the celebrity-driven culture of today has diluted the craft and language that underlines the industry, he again refers to his mentor. "Mrs Vreeland would love it. Oh, she loved celebrities and celebrities loved her. She had Cher, Jack Nicholson, Diana Ross and Raquel Welch at her parties at the Met." But despite the endless names he reels off in comparison – Kim Kardashian, Mariah Carey and Tiffany Haddish are all his "wonderful friends" – he admits that he is not driven by showbiz. "It's just the world that you move in".
His work and personal life have become segregated with age. But if ever the film presents a twang of loneliness behind the endless list of people he mixes with, he remains buoyant on the phone. "My public self and private self were one and the same when I was younger because I was always out on assignments," he notes. "As one gets older, one realises the most important thing is that you cultivate your own little garden, your own world." And so, nobody goes to Talley's house, his sanctuary.
It's this prophetic sense of self he hopes he'll be remembered for. "I hope people see something in me that's special, unique and grounded in education and southern America," he asserts. And though 70 is calling, he has no end goal apart from sharing his stories to urge minorities to dream big. "I think the fashion industry needs to be constantly aware of cultural change and a strong sense of inclusiveness," he explains, before making it clear that he has never felt a struggle himself. Not even when a PR director once referred to him as "Queen Kong". Why? Because he didn't let it hurt him. And five decades on, with his childlike joy of fashion still brimming to the top, there's the sense that you can't say a bad word against his passion. If you do, he's got countless names and stories to reel back at you in defence.