One of the biggest compliments of Victoria Beckham's career arrived unexpectedly at home last week. Her youngest son, 13-year-old Cruz, told his mother he wanted a pair of her new Reebok trainers. "This is a kid who logs on every Thursday morning to see what Supreme products have dropped," she tells Vogue. "He knows about trainer exclusives all around the world and he likes mine!"
The trainers are part of the Reebok x Victoria Beckham spring/summer 2019 collection – the designer's second foray into sportswear with the brand that initially wooed her thanks to its UK heritage. "Who didn't own a pair of Classics in the '90s?" she smiles. But, if the first capsule tapped into the nostalgia that's wrapped up with Reebok, as well as its prowess in the basketball field, the second is about premium sportswear. Beckham has got technical.
"Every time I go into a product category, it's because I want that thing in my life," she rationalises. "I work out a lot, so sportswear is very important to me and my wardrobe. It needs to work, as well as look good." And so, she set out to create the perfect hoodie and tracksuit bottoms; leggings that don't bag around the knees or the bottom; uncomplicated bras that don't irritate and "no silly backless tops". "Just because I'm a woman doesn't mean I want to wear pink trainers," she continues. "In our house we all share sportswear, so it was important that this collection worked for both women and men."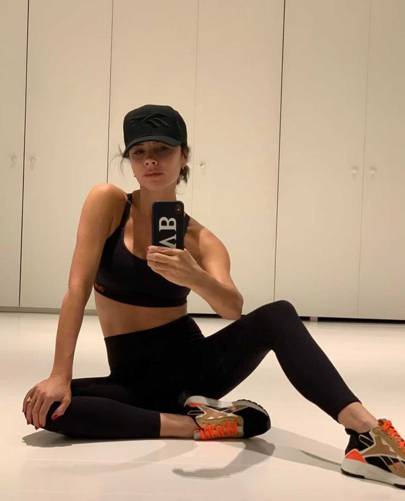 Beckham road-tested everything herself – "no one in my team can be bothered to go to the gym!" – in between life in the studio and on the school run in both London and LA. Her exercise routine currently entails two hours every day: "a mixture of treadmill work, dancing, weightlifting and [resistance] bands," she affirms. "If I get my cardio out of the treadmill, I normally spend the next hour with my trainer on muscle definition."
She's particularly taken with how the seamless biscuit-hued pieces will work with her ready-to-wear line, but is quick to emphasise that this is just the starting point for her functional fashion sportswear series. "I've already finished the next one, and I'm halfway through the following one," she enthuses. "It's going to be a long-term plan, I'm pushing the team and they are pushing me to keep creating newness."
Browse the lookbook, which was shot by Mario Sorrenti and styled by Alastair McKimm, below, and shop the £29-£500 collection at Reebok.com/VictoriaBeckham.