On March 28, it was confirmed that Stella McCartney has bought back the 50 per cent of her business owned by luxury conglomerate Kering. The British designer is now the sole owner of her London-based brand after 17 years of co-ownership with Kering (formerly Gucci Group and PPR).
"It is the right moment to acquire the full control of the company bearing my name," said McCartney, in an official statement. "This opportunity represents a crucial patrimonial decision for me. I am extremely grateful to François-Henri Pinault and his family and everyone at the Kering group for everything we have built together in the last 17 years. I look forward to the next chapter of my life and what this brand and our team can achieve in the future." The designer will remain a board member of the Kering Foundation and will continue to collaborate with the conglomerate regarding its sustainability projects.
François-Henri Pinault, Chairman and CEO of Kering, added: "It is the right time for Stella to move to the next stage. Kering is a luxury group that empowers creative minds and helps disruptive ideas become reality. I am extremely proud of what Kering and Stella McCartney have accomplished together since 2001. I would like to thank Stella and her team wholeheartedly for everything they have brought to Kering - far beyond business. Stella knows she can always count on my friendship and support."
The announcement marks a significant moment for British fashion that may result in the McCartney relocating her show to London Fashion Week. The vegan designer is the last of her generation to own a namesake brand on a global level (the late Alexander McQueen joined the conglomerate at a similar time as McCartney; her former assistant Phoebe Philo departed LVMH-owned Céline late last year).
After taking the reins at Chloé just two years out of Central Saint Martins - from an unimpressed Karl Lagerfeld nonetheless - McCartney struck a rare deal with Gucci Group at the turn of the millennium. It was uncommon then and would certainly not happen today. Heeding the advice of her uncle, the lawyer John Eastman, the then-29-year-old McCartney negotiated equal ownership, 50-50. "They were fighting for 51 per cent, and I just kept holding out," she told the New York Times in 2012. "The very healthful part of the relationship is that we're doing well, and they allow us to work in a fairly separate manner. Luckily, we're a strong enough brand, and a different enough brand, so they can see the value in the 50 per cent they don't own."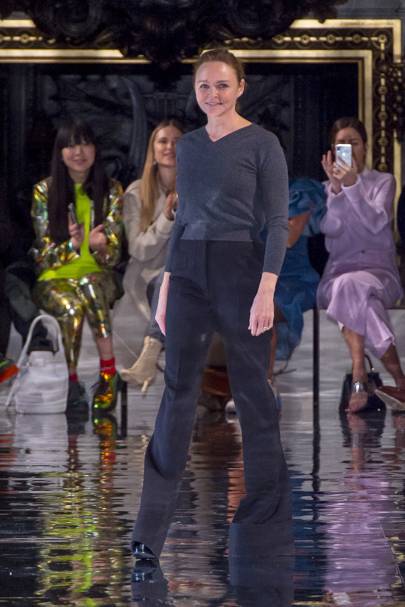 By teaming up with the conglomerate, McCartney was able to acquire its production and distribution network. What set McCartney apart, however, was her devotion to animal-friendly materials and sustainable production - something that she spearheaded within Kering's roster of brands, paving the way for megabrands such as Gucci to go fur-free. Her boutiques are powered by renewable energy, with wood floors made from sustainably managed forests; fabrics are organic where possible (34 per cent of denim, 36 per cent of jersey); and most importantly, no leather or fur is used.
"My product becomes more expensive to make, but I don't pass that cost on to my consumer," she said, in 2015. "I absorb it myself. I have people who want to work with us now because of our company values, and I'm really proud of that."
McCartney holds a special place in the hearts of the fashion-obsessed. "The customer aspires to her 'celebrity' life but also resonates with her being a wife, a mother and businesswoman," says fashion consultant Julie Gilhart. "I think Stella McCartney is one of the most relevant brands for women. Her ethical stance is authentic and she does the environmental due diligence in her materials and supply chain. She understands that a fashion business built on a circular economy is the future."
In 2010, after a successful children's-wear line for Gap, she started Stella McCartney Kids. And at the 2012 Olympics in London, British athletes wore uniforms her company designed for Adidas, the team sponsor. Four years later, McCartney launched a line of menswear with a star-studded concert at Abbey Road Studios. A lifestyle segment of the brand may not be out of question.
"Stella has used her platform to really champion this message which is incredibly admirable, especially as no-one else of her profile was doing the same," says Elizabeth von der Goltz, global buying director at Net-a-Porter. "She has strong sense of who she is, and clear principles, and this translates into her designs. Not only do you feel good wearing them, but you can also feel good about buying into the brand."