Ahead of this afternoon's Gucci autumn/winter 2017 show - which will take palace at 2pm UK time - the brand's CEO, Marco Bizzarri, has revealed that it will be a "stronger and more powerful presentation" from creative director Alessandro Michele.
The show, which is set to take place in a former airplane hanger (which Bizzarri describes as "a white box that Alessandro can decorate as he wishes"), comes as the brand is celebrating its "spectacular growth trajectory" (as Kering CEO Francois-Henri Pinault put it last month), which in financial terms equates to a 23.6 per cent rise in 2016 revenues compared to 2015. Bizzarri attributes the figure to Michele's bold change in aesthetic, which he debuted in 2015, and ability to foresee what the fashion world wants.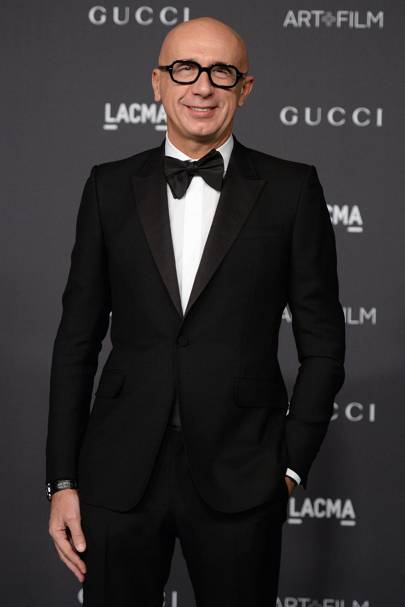 "In time, what he's doing has become more accepted," he told WWD. "We say that our world must think of and listen to consumers and this is true, but not too much, in the sense that if you want to change and innovate you must also think with your own head. Maybe you make choices that the market is not ready to accept, but that will be accepted in 18 or 24 months. The beauty, skills and genius of Alessandro are that he understands what will happen, not what is happening. What is happening is already passed."
He also credited Michele's distinctive reinvention of the Italian house's famous logo, which is now not only a dominant element of its catwalk collection, but has a widespread presence on the street.

"When I saw Alessandro for the first time and we started to speak of Gucci, we were both convinced of the power of the logo," Bizzarri continued. "You can't be ashamed of its logo and what it represents, but you must think of it in a contemporary way. Alessandro has been able to mix the animal world, the bees, the head of a lion to the logo, or mix different signs together. This makes the pieces basically impossible to copy. Because you can copy a logo, but when you put additional craftsmanship and creativity on the fabric and the logo, it becomes really very difficult to copy that product." All eyes on this season's take on the birds and the bees this afternoon.