There are myriad of amphibious metaphors that can best describe Amber Heard's look at the London premiere of Aquaman last night. But, the swimming cap itself speaks a thousand words.
Heard, who plays underwater queen Mera in the DC Comics adaptation, made a splash in London's Leicester Square wearing Valentino couture autumn/winter 2019. Sea-green with swirling silver and gold embroidery, it was as if Pierpaolo Piccioli had made the gown and accompanying headpiece specifically for this moment.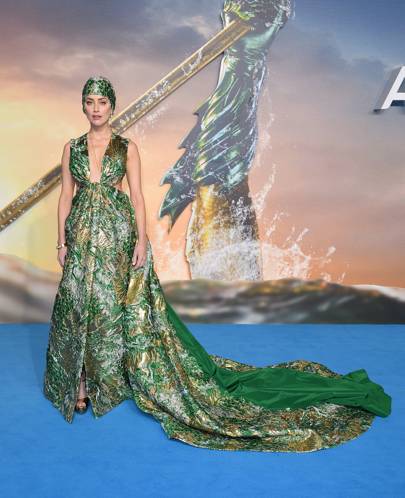 Heard, steely with concentration, accessorised the head-to-toe ornate craftsmanship with a single bejewelled earring, gold neck chain and gargantuan gold Brian Atwood platforms that seemed to reflect her status as a self-professed "bad ass" of the ocean.
With a plethora of brilliant couture and evening wear – and brand endorsement deals to adhere to – it's rare that an actor looks directly to the theme of a film to dictate a promo tour wardrobe (Blake Lively on the trail for A Simple Favor and Keira Knightly fulfilling her Nutcracker press dutiesare recent exceptions). When it happens, however, it's a rather magnificent thing. As Piccioli told Vogue about the power of couture after the presentation of this particular gown: "It's fantasy, intimacy, emotions altogether…" Perfect for riding the red-carpet wave of an extraordinary franchise in.