Alessandro Michele has debuted an all-new Gucci campaign, recreating famous scenes from the legendary Stanley Kubrick's films.
The Italian luxury house's new fashion campaign pinpoints iconic scenes from Kubrick's films, recreated with meticulous detail to showcase Gucci's latest Exquisite collection. Some of the scenes featured draw from Kubrick's classics like The Shining, 2001: A Space Odyssey, A Clockwork Orange, Eyes Wide Shut and Barry Lyndon.
The near-exact replicas of the famed director's work, sees Michele insert Gucci-clad models into the scenes. To ensure authenticity, Gucci partnered with Warner Bros. and the longtime Kubrick costume designer Milena Canonera to bring these scenes to life in the modern day and age. With the help of accurate settings and finding lookalikes to portray the film's actors, the campaign brings a sense of surreality to the collection.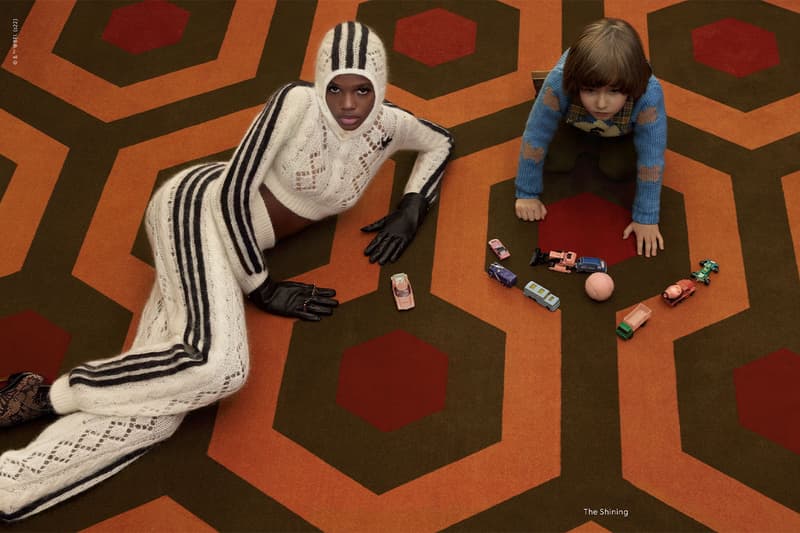 The seamless integration of the models was chosen specifically to imitate the actors in Kubrick's films. Some recognizable scenes include the empty hallways from The Shining and the rotating corridor from A Space Odyssey. Michele spoke about finding inspiration from Kubrick's film in a lengthy note regarding the new Exquisite campaign,

"Kubrick was, in essence, a real sculptor of genres: the 'cross-genre' director, ahead of his time. His ability to build stories that exceed significance, crossing borders and setting labels on fire, has always been deeply inspiring to me.

As an act of love, I decided to re-inhabit Kubrick's films. I took the liberty of disassembling, blending, grafting and reassembling them. Sticking to my creative praxis, I seized those movies, re-semanticizing them, populating them with my clothes. The past explodes into the present."