In the spring of 1989 my mother took me to a modelling agency in my hometown of Tulsa, Oklahoma. We had to pay them to be in the agency. They were to teach us how to mannequin model (this is where a local store hires you to be a live mannequin and you pop and lock into positions like a robot every few minutes! And yes, after my first summer in Milan I came home to the glory of a few fashion shows at the mall and mannequin modelling in the local department store). We were also going to be taught hair and make-up, catwalk, and how to model for the camera. After a few months of classes, a modelling scout from Italy came through Tulsa. They called all the models from the agency to come for a casting.
I had no pictures and had literally just started learning important tools like mannequin modeling and how to walk on the runway. However, this gentleman from Italy Models saw potential even though he said I had elf ears. And I do. Even Richard Avedon once taped them down! Nonetheless, elf ears and all I was off to Milan that summer. After one test and two weeks of being in Milan I landed my first job, an advertorial for Italian Vogue. I cried on my first job because I didn't know a thing about modelling and quite frankly I hadn't even looked at a fashion magazine. The photographer and other model were very kind and told me to relax and just vibe with the music. I grew up playing dress up and performing constantly with my cousins so once I relaxed all of those instincts came flooding back and I was on my way. I fell in love with modelling that summer and I knew it was going to change me and my life.
The fashion industry has changed profoundly in the last 28 years. We are an industry that thrives and demands change. If one doesn't stay current and openminded, you won't last long in the fashion world. The industry has grown by tenfold - maybe more. There was a fraction of the amount of people working in the business than there are today. For example, when you go on a shoot today there are 25 people when before there would be only five. These days assistants have assistants who have interns! This also means more models backstage at shows like 60 rather than 30. Back in my day, we would break a sweat trying to change three or four times during a show! I am quite happy to only have one or two looks at a show today. Now, there are lots of girls who only do shows or girls who only do editorial whereas in the Nineties if you were in the big editorials - you were in the fashion shows.
The two were more synonymous. I might be nostalgic but there seemed to be a bigger emphasis on the individual woman and her distinct personality - that is why she was hired. It was the era of the heroine, AKA The Supermodel. Of course, there are women today who are supermodels, but their path has been different. In many ways, it has been on their own terms and ability to maximise a new phenomena, social media. Today, we live in the era of instant, shared, perfected, calculated, hash-tagged, filtered snippets of life. And what counts is counting numbers. It isn't bad or good in my opinion. It is what it is. Social media has levelled the playing field and again changed fashion.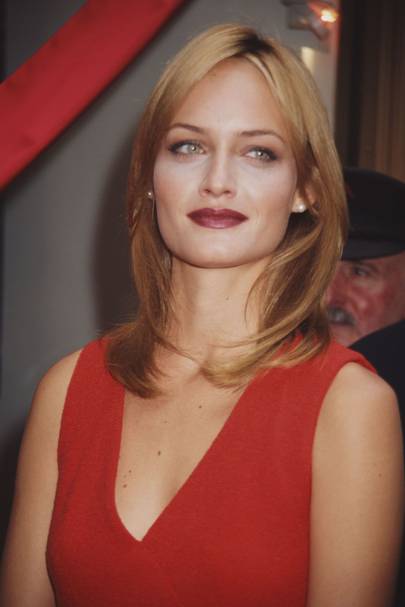 Models are influencers and can literally build a career from their postings on Instagram. We had to build our book to get booked. The change that social media has brought in fashion is enormous and undeniably intuitive to the millennials. So I am playing catch-up and learning. I see that it is a great tool to share values and build a brand. Models of today are clever at building a following that dictates their ability to succeed in a whole new way. Today, you can express yourself and what you believe in, just through a simple post. Some things haven't changed. The excitement of seeing what a designer has created from the depths of their imagination and being able to help interpret their dream through the catwalk or a photograph. The chaos and stress backstage before a show is about to start remains like a frenetic energy that is impossible to calm. I still get the butterflies before I step out onto the catwalk. No take backs, just free falling. I love the creativity, energy, beauty, artistry, fantasy and challenges in fashion. However, one big shift in me is that I discovered I wanted to be conduit for change within the fashion business…
Over the past several years, I focused much of my energy looking at the issues facing the fashion industry in regard to sustainability. In 2013, I launched an online store selling responsibly made clothing and accessories called Master & Muse, in an effort to prove one could have both style and substance. However, I realised that the problems are not so simple and are deeply systemic. The solution is not a special T-shirt for Earth Day. I am talking about a massive makeover in how we perceive, design, sell and discard clothing. We are making and disposing things without any thought of their afterlife at a cost to our own wellbeing, in turn using more raw resources and fresh water that are already scarce. Not to mention the toxins and chemicals polluting rivers, air and land. As an industry, this is our next challenge and opportunity for change. Fashion affects everyone and provides millions of jobs globally so if we change fashion we change the world.

Everyone has a place at the table now, in part because of social media's massive ability to broadcast and showcase people from all around the planet. We have created a communal table for many to pull up a chair and be a part of what was once an extremely exclusive meal for a few. Inclusivity not exclusivity. Diversity today is becoming the norm as it should be in fashion shows and images. Women from different ages and ethnicities are being hired and regarded like never before. We are a connected and global industry, thus our representation of the world must be more accurate. I believe we are seeing that change in front of our eyes at this moment. How truly exciting!
I am so happy to be back in the magazines and on the catwalks; to be a part of this ever evolving industry. I hope that we will continue to grow and strive for the endless possibility of a more glamorous, fun, influential, sustainable and inclusive industry. True change never goes out of style!