The first item Paloma Lanna released under the umbrella of her fashion-brand-cum-art-project, Paloma Wool, was a sweatshirt. Numbered by hand, and part of a limited edition of 50, the sweater featured a photograph Paloma had taken on her travels in New Zealand, of a bush with pink flowers, using her old Yashica.

She shot the sweater on a pretty friend and published the image on Instagram. People began sharing it. Then they started buying it. In one day, her nascent website was flooded with visits from 69 different countries. "It taught me that content is so important," the 28-year-old designer reflects, speaking over the phone from her Barcelona studio. "At the end, they were only sweatshirts, but the photos were so different to what other brands were doing that people connected to them."

Four years on, Paloma Wool, a direct-to-consumer, Instagram-fuelled sensation has only continued to connect with its customers in increasingly innovative ways. On October 29, the brand will open an eight week-long pop-up at Liberty, with a sculptural shop-fit designed by two young designers from DelloStudio (fittingly, they first connected on Instagram, and are yet to meet in person).

Several days later, it plans to stage a photo shoot with its London-based clients and followers. "We're not looking for models – just people who like the project," says Paloma. "Maybe you would like to come! We already got 150 emails on the first day of posting the idea, and I don't know how many people will turn up, but we're looking to represent everyone who wants to be a part of it."

Note the word "project". Paloma Wool may have gained followers on behalf of "the Leandra", a cream-coloured, one-size-fits-all, €79 shirt featuring a lithe form reminiscent of a Matisse cut-out or an Arp moustache; it may do a fine line in Seventies-hued, needle-cord jumpsuits; it may sell cute alpaca jumpers by the shedload – but don't call it a fashion brand.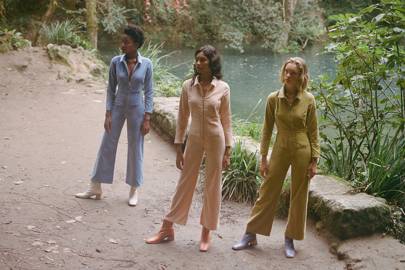 "When I started Paloma Wool my ambition was to create a platform for different artists to meet and create pieces together," says Paloma. She has followed up on her ambition to be "more than a clothing label" by collaborating with ceramicists, artists and photographers, selling their products on her website and utilizing their skills in service of her distinctive, soft-focus imagery. "I am more concerned with being artistic than commercial," she says.
The two, however, are not mutually exclusive: increasingly, it's that inventive flair for stand-out imagery that ensures her smile-inducing clothes and accessories sell. Paloma agrees her photography is as important as her products. "It's very important with us being an online store. The visuals are what people buy into." She still photographs most of the campaigns herself, occasionally utilising the exacting eye of her best friend Carlota Guerrero, the brains behind Solange's extraordinary A Seat At The Table album artwork. "I think a lot about what photographs I'm going to take. I always try to express friendship and kindness with my photographs – both are such important messages for our brand."
Born in San Sebastian, but raised in Barcelona, Paloma has fashion in her blood. Her parents founded Eighties-era label Globe and then Nice Things, a Spanish clothing brand, with whom she shares some suppliers and for whom she still leads the marketing department. She struck out on her own in 2014, having finished her college degree. The factories in particular came in handy: 80 per cent of the collection is produced in Spain, with the remaining T-shirts and sweatshirts produced in Portugal.
She is excited to come to London: "I always get stopped by people who recognize the clothes – no one would ever do that in Spain," she laughs. What's the secret to her appeal? "Colourful, special pieces with a good price point. But, really, it's about friendship," she says. "We're just a group of eight girlfriends doing fun stuff together."