When I got the call about working with H&M and being their designer collaboration for this year I was excited as I love the idea of bringing my [designs] to the masses," Jeremy Scott told Vogue in the week that the first campaign images, starring Gigi Hadid and Imaan Hammam, emerged. "It is something I did with my adidas collaboration and I loved the reach of that, and I am so thrilled to be able to do the same now with my Moschino designs."
H&M confirmed its latest designer collaboration, with Italian fashion brand Moschino, back in April 2018. News of the collaboration was first revealed on the evening of April 14, at Jeremy Scott's 11th annual party at Coachella music festival. The announcement came via an Instagram live call from Gigi Hadid to the designer. Both were dressed in looks from the Moschino [tv] H&M collaboration, giving a tiny taste of the playfulness and colour - synonymous with Scott's designs - that we can expect to see from it.
After Scott's long-standing collaboration with adidas ended in 2017, this partnership will offer fans a chance to snap up his designs again at a more accessible price point, with prices ranging from approximately £25 to £300. "I started with the thought of how to make it the most Jeremy Scott for Moschino collection ever," the designer explained to Vogue.
"I thought about the mood of 'street', the mix and attitude of haute couture and humour, and the elements of bling bling accessories piled up on top of each other to capture and create the look I do on the catwalk. I thought of it like ingredients for a feast, and I wanted to include all the ingredients to make sure it had all the essence of a Moschino collection. You get cartoon characters, you get gold, bold Moschino jewellery, you get sequins and shiny things, and a mix and juxtaposition of elements you don't normally find together. Expect the unexpected!"
For the eagerly-awaited collection, available online and in-store from November 8, silhouettes are slashed, shapes are distorted and chains and logos are emblazoned across everything from T-shirts and jackets to boots. A collaboration with MTV plays with pop culture with a fresh logo mash-up in true Moschino style, subverting the iconic MTV logo on hoodies and sweatshirts.

Constantly fusing high and low, Jeremy Scott believes in the "haute hoodie" and has created a dazzling parka dress that's entirely covered in silver sequins. Vying for the position of the most blinging, standout piece in the collection is a gold leather biker jacket punctured with gold chains, not to mention a bustier twinkling with countless rhinestones. Metallics, logos and chains aside, familiar Disney characters also crop up in the collection. Patched onto a hoodie dress, Mickey hangs out with Donald Duck, Goofy and Pluto. Minnie Mouse is knitted into a fuchsia intarsia sweater dress, while a merino wool mesh knit dress has oversize patches of Donald and Daisy Duck.
"Whenever I design, I always want there to be so many different options and choices, for all the different people who identify with the Moschino world," Scott explains, giving the reasoning behind the broad, all-encompassing collection (and we haven't even got to the pet wear yet). "Personally, I love the gold sequinned puffer and can't wait to wear that. I feel certain that you will see that I'll be living in the MTV Moschino logo mashup sweat suit for the entire next year!"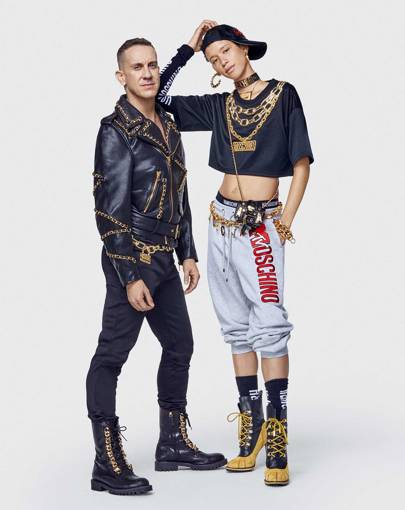 The collection will also include pet wear, from a padded dog jacket printed with chains and leopard print and a grey hoodie featuring the famous double question mark Moschino logo, to dog collars decorated with charms and gold lettering. This will be the first time both H&M and Moschino have released clothing for pets. "Everyone's little doggies need something to keep them warm this winter! I didn't want to leave them out," Scott told us. "Can you imagine their faces if they saw their owner had some Moschino [tv] H&M and they were left with nothing? It was so much fun to make these pieces for them."
Four years on from Scott's debut Moschino catwalk collection, the designer reflects on that pivotal moment in his career and what the brand means to him today: "That show was so emotional and powerful for me as a person and as a designer. It was the first time I ever showed work under another designer's name - it was a new experience to put myself into a space where people could judge me not just by my work, but by how my work fits with their concept of a brand that has been beloved for many years. Looking back today I still love the collection, and think it was very forward as I did a lot of things that are now being done by other designers. So, when I think about that collection I think - right on!"

On October 6, H&M revealed the first images from the campaign, shot by Steven Meisel, which take inspiration from a '50s salon show. Styled by Carlyne Cerf de Dudzeele, with hair by Guido Palau and make-up by Pat McGrath, the campaign features models Gigi Hadid (of course), Imaan Hammam, Vittoria Ceretti, Rianne Von Rompaey, Stella Maxwell and Soo Joo Park, lounging around a resplendent room, replete with gold chairs and a chandelier.
"Gigi is my baby girl. I love and adore her. First of all, she's such an amazing model and she looks gorge in the Moschino [tv] H&M campaign! Gigi and I go back a long way. At my own label's AW14 show I was the first designer to put her on the catwalk, and she was so fierce that she both opened and closed the show. I love the Hadid family so much. Their mother has raised them all so well, and has instilled in them this kind of thoughtfulness and presence. I could not imagine doing Moschino [tv] H&M without Gigi!"
"We love to connect our designer collaborations to the mood of the times," H&M's creative advisor, Ann-Sofie Johansson added of the partnership. "Right now, fashion is so bold, so energised and so much about making a statement with what you wear. Jeremy Scott at Moschino is the perfect designer for this year's collaboration, because he is all about having the best time with fashion. His work has such positivity, optimism and his amazing sense of humour, all of which makes Moschino [tv] H&M so special."
As one of the most well-connected people in the fashion industry and an incredibly effervescent personality, what's Scott actually like to work with? "Jeremy is such a gentleman, and is one of those amazing people who is exactly as they seem. He's so much fun, is polite and kind and talks with everyone," she continued. "There is this great energy around him when he's designing, and he's such a hard worker. He is very clear about what's right for Moschino and pushes hard to make everything the best it can be. It's such a great combination. Working with Jeremy on Moschino [tv] H&M has always been productive and also fun for everyone too."
Most importantly, what can we expect for the launch event? "We love to think big at H&M! We have such an amazing launch night planned, but we also love surprises, so I won't reveal anything. But I will say to keep an eye on H&M's social media feeds on 24 October for the build-up and show, and then on 25 October to relive all the special moments from the night. It'll be like having the best front-row seat, wherever you are in the world."