The radio was an ever-present voice in Natacha Ramsay-Levi's household growing up. The Chloé designer, who took the creative helm of the brand in April 2017, has memories of her parents engaging her brother and younger self in conversations about what they had heard on Radio France that day. "Discussing current affairs and literature was what we did," she tells Vogue.
Radio France is still a key medium Ramsay-Levi receives her news and social commentary through. Accordingly, she has used her platform as the head of a major French fashion house to pay homage to the broadcaster. On September 27th, she will stage Chloé's spring/summer 2019 show at the Maison de la Radio, the headquarters of Radio France in Paris' 16th arrondissement. This is the second time she has invited the industry's great and good to the ring-shaped establishment to view her designs.
This time, however, the new collection follows the launch of Chloé Radio, a podcast inviting listeners into Ramsay-Levi's world and the Chloé women that populate it. "The Maison de la Radio is a beautiful cultural space, while also reflecting public culture of a very high standard," Ramsay-Levi explains of the idea's conception. "This resonated [with] me and motivated me to consider a podcast from the voice of Chloé."
The first in an ongoing Chloé Radio series sees French journalist Augustin Trapenard in conversation with six French women, who cross multiple generations. Over the 20-minute episodes, Clémence Poésy, Houda Benyamina, Ariane Labed, Isabelle Huppert, Leila Slimani, and Ramsay-Levi discuss life-defining moments and the meaning of femininity today.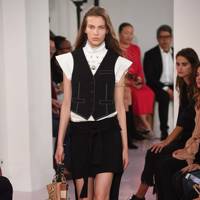 "You can hear moments where they volunteer their vulnerabilities, but then you will also hear inspiring moments of inner strength," Ramsay-Levi shares. "These women know themselves… which I think is very inspiring." She also believes that each interviewee's sense of self roots back to a comment made by Chloé founder Gaby Aghion in 1952 – "To all women, I always say, you must dare" – and thus that is why they are Chloé ambassadors.
Trapenard, who hosts a programme called Boomerang, was an obvious choice for Ramsay-Levi. "He has an intelligent, direct style of interviewing and a broad cultural background. No matter his guest, I always come away with new insights," she notes. As well as tuning in to Trapenard every weekday at 9am, the podcasts La Fabrique de l'Histoire (The Fabric of History) and Les Chemins de la Philosophie (The Paths of Philosophy) are usually high on her listening agenda.
For now, she'll be plugged into Chloé Radio and checking the comments as each episode airs on the Podcast app and as a video on IGTV from September 20 until show day. For a woman whose radio time is "vital", this will undoubtedly cut through the static.