You hear him before you see him. From the moment we arrive at the Off-White studio in the north-east of Paris, Virgil Abloh is bursting with energy. Look away for one second and he's off, in a different corner of the room, talking to another set of people; iPhone forever in his hand, a smile and laugh never far from his face.
Split across two levels, the studio is a hive of activity: catering, hair and make-up on the mezzanine level; a makeshift photo studio, the busy atelier and fitting corner filling the warehouse-like space below. Tables run along the sides of the giant white room – one side piled with shoes, accessories on the other. Everywhere there are towering mood boards reclining against tables and rails, neatly titled "Track & Field" – note the ubiquitous Abloh quotation marks. Like the jazz playing in the background, it is an organised chaos; a hundred things happening at the same time with no seeming order but in perfect harmony.
It is the day before the Off-White show and final fittings are in full swing. Jourdan Dunn waits patiently; Bella Hadid and Kaia Gerber slip in silently, flurries of action following them the second the studio spots their presence; then the Olympians enter.
British sprinter Dina Asher-Smith and track and field star Katarina Johnson-Thompson take the scene in excitedly. Did they ever imagine they would walk at Paris Fashion Week? "That's the first time someone has actually said [it like] that," says Johnson-Thompson, still somewhat bewildered that this is in fact reality.
Joining them on the runway will be high jumpers Vashti Cunningham and Cecilia Yeung, 100m dash champion English Gardner, Colombia's Caterine Ibargüen, Belgium's Nafissatou Thiam and the French runner Rénelle Lamote. Together, they will sport Abloh's latest collaboration with Nike, his Nike Running and Nike Women debut. Of course, it is an evolution from previous projects. Last year saw him reimagine 10 models from the brand's sneaker archive, including the classic Air Jordan 1s, Air Max 90s and Air Force 1s. Earlier this year he dressed Serena Williams for the US Open. This time around he's focusing on the total look. "[I asked myself,] what can I add to something that is seemingly already perfect?" says the creative polymath.

Here, the American designer, DJ and music producer talks exclusively to Vogue about merging athletic apparel with fashion (not athleisure), championing women on a global scale and his fuss-free approach to balancing so many different projects at once.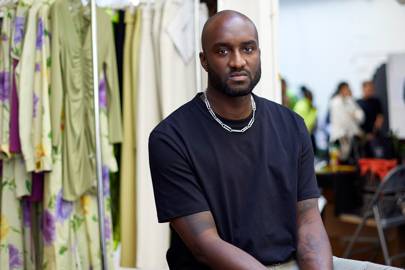 "Essentially, it is femininity crashed against athletic apparel and sport. The juxtaposition is how you know something happened; that is the crash. There's textures, there's silhouettes. The shoes for example, I started with a very athletic shoe and crashed it into a very feminine high heel. Take the suiting: there's a biker short, but in tailoring. That's the crash in 3D. The end result is Off-White; it's a metaphor."
"Whenever I'm doing a collection, I'm inspired by the world around us. Not in a flowery way of 'I saw something out a car window', it is more [about] the social context of womenswear now, women in culture and how they are represented. I also noticed – at least in America, in my social circle – that an active lifestyle is becoming the norm. It is a lifestyle: be healthy, live healthy, eat healthy and work out. So workout apparel donning this name 'athleisure' to me was not fully embracing fashion as a united idea, so I wanted to merge this athletic apparel with fashion but in a way that it's organic."
"They are totally different. If you could combine the best of athletic wear – its performance, its fabrication, its sensibility – and bend that into fashion, what does performance apparel look like? Or what does fashion look like after it has [gone through] this thought process? That is where a lot of the fabrics and the silhouettes came from. It's 'Nike couture'."
"In my mind it was natural to have real athletes [in the show]. I do fashion to tell a narrative. In my mind, the muse is the athlete. These Olympic athletes, they train for a living, they live in workout clothes. So I wanted to see what these clothes look like on real women who actually do that. I think it can extend out to the girl who likes to work out and loves athletic wear."
"Working with Nike this time was more apparel-focused; it's more a total look than just focusing on the T-shirt. What I feel like I can add is the flair of relevancy or the lifestyle. Not so much the product itself, but why wear the product or how can the product be intriguing? What would make an athlete feel prideful? Or confident? Like they look their best? I believe that little extra element, which is above and beyond the product, can make someone perform even further - thereby achieving a better result."
"In a weird way, the key is not to think about it. I don't sit and think, 'Oh, I'm working a lot.' Every idea that comes to mind I execute or I look for outlets to put out ideas. I just do it."