Adesuwa Aighewi lives in a brownstone in Harlem that's owned by a tough Puerto Rican landlord named Bun, who has a fatherly influence over her. She hates sport, finds podcasts too preachy, follows science and politics avidly and has her sights set on a major beauty deal.
But if that's a brief summary of where Aighewi's head is at now as she makes her way around the global fashion week circuit, the story of her career trajectory is not so sharply definable.
"Modelling was never something I wanted to do," the African-American beauty of Chinese-Thai-Nigerian descent shares with Vogue. But the scouts, who contacted her both online and in person at Prince George's County, Maryland, were persistent. "I'd never thought about the physical attributes of humans and what that entails because I was really focused on school," she remembers. Aighewi finally relented to a test shoot in 2010 and slowly began to realise, "It's my favourite thing to pose."

A term off school followed after she found out that a modelling gig would cover the pay of an entire science internship at NASA. "I thought it would be a way to support myself while sorting out what I wanted to do with my life," she explains. Maryland eventually became Los Angeles, and her Instagram follower count started creeping up, as brands, like Alexander Wang, Kenzo, Miu Miu and Vivienne Westwood, came sniffing around the striking young woman with dreadlocks.
Her hair, or rather the fact some agents deemed her dreads "too black" to secure her jobs, became the subject of a personal essay addressing the industry's diversity issues in The Guardian in 2017. Threaten Aighewi's self-expression and the academic will eloquently fight back. "I can be whatever I want to be. I can be sexy or edgy or pass as a dude, it's all fun to me," she says. "I know who I am, and I don't spend time wondering who other people are."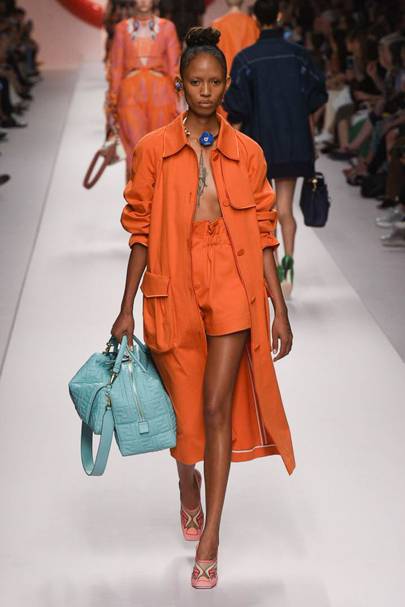 Her pinch-me moments so far include eating sushi with Karl Lagerfield in his studio after shooting with the keen photographer and Naomi Campbell yelling her name across a party. "It's very crazy that she knows me," she giggles. But the 26-year-old has kept a safe distance over her 10-year career climb, and has chosen only to lean in and comment on the issues that matter to her, like representation and her roots. She recently outlined plans for a miniseries exploring African culture and values, something she personally grew to appreciate when her family moved from America back to Nigeria when she was young. Plans to unite young Africans through various other forums are also bubbling.
"I like the freedom and working with creative individuals," she explains of what keeps her fighting to be a force for education and reform. "Everything should always change. Change is good," she states. "Now I see models being idolised for who they are, rather than just for their physical attributes." More importantly, the industry, too, is recognising that this hasn't always been the case.
Aighewi's opinion of social media plays into this measured attitude. "I like that the people we idolise are accessible," she comments. "But I don't feel the need to up-keep followers or whatever it is some people do. I don't have a brand, I just am."
"Just Adesuwa" might not care what her 50,000 followers, her agents – when one told her to get breast impants to do Victoria's Secret, she got her chest tattooed instead – or anyone else thinks about her. But she'll never be complacent about what she believes in. "And to thy own self be true," her Instagram handle reads. A powerful mantra and one that has thankfully captured the industry's attention.