Michael Kors has bought Versace for $2.1 billion as the American fashion brand moves closer to its goal of becoming a luxury fashion conglomerate to rival Kering and LVMH, and renames itself Capri Holdings to reflect its portfolio approach.
John D. Idol, Michael Kors CEO, has made no secret of the company's mission to acquire brands to add to the Kors stable. After buying Jimmy Choo in 2017 for $1.2 billion, he told press: "We are creating a global luxury fashion group. Our focus is on international fashion luxury that are industry leaders." Under the Kors umbrella, Versace will increase its accessories offering from 35 per cent to 60 per cent of revenues to secure a year-on-year profitability – a policy adopted by Michael Kors, itself. Capri Holdings will also up Versace's global retail footprint from approximately 200 to 300 stores and accelerate its e-commerce and omni-channel development to support this.
Idol today commented: "With the full resources of our group, we believe that Versace will grow to over $2 billion in revenues." Jonathan Akeroyd, Versace chief executive, who will remain in the position after the deal, commented earlier this year that he expected the brand to achieve sales of more than €1 billion in 2018, up from €686 million in 2016, in comparison.
"This is a very exciting moment for Versace, Donatella said in an official statement. "It has been more than 20 years since I took over the company along with my brother Santo and daughter Allegra. I am proud that Versace remains very strong in both fashion and modern culture. Versace is not only synonymous with its iconic and unmistakable style, but with being inclusive and embracing of diversity, as well as empowering people to express themselves. Santo, Allegra and I recognise that this next step will allow Versace to reach its full potential. We are all very excited to join a group led by John Idol, whom I have always admired as a visionary as well as a strong and passionate leader. We believe that being part of this group is essential to Versace's long-term success. My passion has never been stronger. This is the perfect time for our company, which puts creativity and innovation at the core of all of its actions, to grow." The three Versace stake holders will become shareholders in Capri Holdings as a sign of their commitment to the new global luxury fashion group.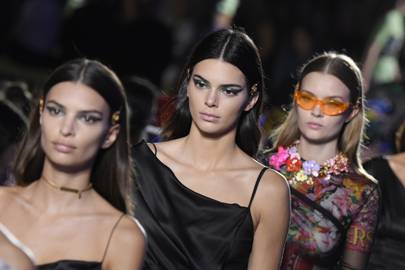 Though the agreement marks another one of the few remaining independent labels relinquishing control to a parent company (Missoni and Dries Van Noten also fell prey to the conglomerates in 2018), the family will still hold a minority stake and be involved in business decisions. Currently, Versace is run by Donatella Versace, who acts as creative director and will continue to do so in the new business proposition, and her brother Santo Versace, chairman, who own 20 per cent and 30 per cent of the company respectively. Private equity firm Blackstone owns 20 per cent of Versace, but it is not yet known whether it will sell its stake in the deal. Prior to today, the remaining portion was owned by Allegra Versace Beck, Donatella's daughter and the niece of the house's late founder,
The deal brings an end to the market's pursuit of the brand. Tapestry Inc, which owns Coach and is also vying to build a luxury fashion group that dominates the US market, showed interest in purchasing Versace, as did Kering, Tiffany & Co. and PVH Corp., according to the Business of Fashion.
As the industry becomes increasingly dominated by power players with profit margins at the core of their businesses ahead of creativity, Donatella Versace's most recent collections seem all the more poignant. Her spring/summer 2019 showcase at Milan Fashion Week, where she took no interviews, saw an all-star cast of Versace women – spanning the supers' era to the faces of the social media generation – walk together as glamazons in a continuation of the spectacular she staged in homage to her brother one year ago. The symbolic handing of the baton from one generation to the next was evident; but more obvious was the fact that if Donatella is relinquishing her control of her brand, she's going out with a bang.