When Judy Blame passed away earlier this year, the fashion industry lost one of its foremost luminaries: a man whose radical creativity and compassion reverberated through decades of design, and made a seismic impact on designers from John Galliano to Rei Kawakubo; Kim Jones to Gareth Pugh. Now, in honour of his incalculable influence, this London Fashion Week will offer an event celebrating his life and legacy: a Vogueing ball, where contestants will create costumes inspired by different periods of his career to compete on the runway. The history of the Vogueing ball is dominantly rooted in New York's queer culture, where they have long offered safe spaces for celebration and competition – and now, inspired by the likes of Buffalo Stance and House of Beauty and Culture, Vogueing is taking a London-centric turn.
Orchestrated by Gareth Pugh, who frequently collaborated with Blame, and with judges including Kim Jones and Munroe Bergdorf, it is set to be a fitting celebration of the iconoclast: in Pugh's own words, "an anarchic high mass." With DJs flying in from around the world, and the Old Selfridges Hotel transformed into a Vogue ballroom setting, it is sure to be an evening to remember. Here, Pugh reflects on what inspired the event, and how he hopes it offers a fitting tribute to Blame.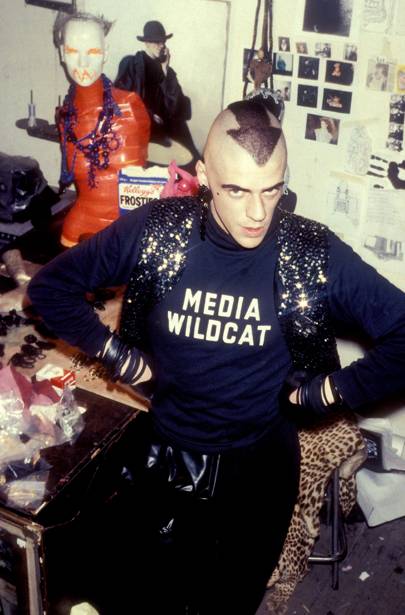 Why a Vogueing ball? What is a Vogueing ball's cultural significance?
The idea originally came up in conversation with the choreographer Benjamin Milan, who is founder and father of the UK chapter of the House of Milan, and at the forefront of the development of the ballroom scene here in the UK. We are working with Benjamin on the movement for our upcoming show, which is taking place a little earlier in the day at the same venue, and is partly inspired by Judy's spirit of creative extremism. I knew I didn't want to reference Judy so directly with the collection or show – I wasn't comfortable with that – but I had been looking for a way to pay tribute to him that wasn't sad or elegiac. Something more high voltage, like an anarchic high mass.

What makes this a fitting tribute for Judy?
As part of our conversations with Benjamin the subject of the "house mother" came up, which on the ballroom scene is essentially a legendary figure who goes on to mentor and care for the next generation. My thoughts immediately turned to Judy, who was an extremely generous mentor and supporter. He had a lucid understanding of the world as an aspirational space. Nick Knight described him as "a champion of the underdog" and an "anti-fascist" and he was a huge ally to LGBTQI people, and to people of colour. So this is about creating a space to celebrate everything he stood for. This is our house.

What about Judy was so particularly inspiring?
Judy was uncompromising, ungovernable and fiercely anti-establishment. He was a creative extremist and he made his loyalties clear. He came up in the '80s and '90s where much of culture was moving towards the shallow and the acquisitive, but Judy was a counterpoint to that.
What did you collaborate on together?

When I first met him, he was styling J Maskrey's show at London Fashion Week and I was an intern. We instantly hit it off, and he asked to see my work. I would bump into him at various nightclubs – usually at Ghetto behind the now demolished Astoria on Tottenham Court Road. He introduced me to William Baker, who he was sharing a studio with in Soho, and that led me to working with Kylie on her Showgirl and Homecomingtours, as well as a couple of music videos. When I first showed with Fashion East, Judy came on board to make the jewellery, and we worked together every season for around four years. He did the jewellery for my first show in Paris. He always said he was my cheerleader – he was incredibly supportive.

What about his aesthetic and work excited you most?
Judy was an image-maker, and he made beauty from the mundane, turning trash into treasure. He was spontaneous and intuitive. Aesthetically he took no prisoners, and he sometimes had the illicit smirk of someone who knows that they're world class, which I loved.
Who are you hoping will turn out the best looks?

I'm excited to see Matyous LaDuree MC, and to see what the performers come up with. People tend to fetishise Judy's early career, but with the help of Kasia Maciejowska (author of the book The House of Beauty and Culture) we've made sure that each of the categories in the ball explores Judy's wider legacy; from his influence on pop iconography, to street style and fashion editorial. So there will no doubt be some major ensembles.