Inspired by the vibrancy of the season, Stella McCartney's new sunglasses are designed not only with the modern woman in mind but also with a focus on what sustainable luxury looks like right now
in partnership with Stella McCartney.
The cool-girl credentials of Stella McCartney's ready-to-wear collection have never been more at home in the designer's sunglasses offering than this summer. With the promise of longer days and getaways to sunnier climes, the London-based designer has upped the ante on eyewear, presenting styles that will slot into wardrobes neatly without sacrificing impact, and promoting a modern, clean approach to summer dressing.
Sticking to the signatures that have contributed to McCartney's design success, the frames look to both her past, present and the future. In off-kilter clay reds and printed with faux – naturally – python, they're the perfect accomplice to the khaki paper-bag waists and contemporary take on shirting that populated her Paris Fashion Week show.

The rose-gold aviators will sit well on the face of the woman with a summer glow, who hops from Marrakesh's souks to the trending landscapes of Colombia dressed in louche belted shapes and chicly sensible leather sandals. Meanwhile, that Vogue favourite, the unisex (another new branch added for the season ahead) caravan style, can be employed to bring the ever-elusive well-measured touch of androgyny to your favourite summer dress.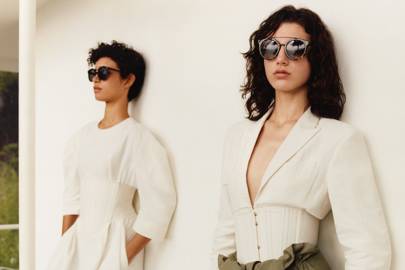 If your wardrobe already boasts a design from McCartney's Falabella range, your eyewear can now boast the famed chain design, too. The handbag detail that has already seen clutch, tote and purse generations, is now commandeering the temple. In three different dimensions, it's addition alongside is an eye-catching feature that offers the wearer a definitive marking to the knowing eye that you, too, are one of Stella's empowered women.

Paralleling the ready-to-wear collection not only in design, but also in ethical stance, the shapes adhere to McCartney's commitment to sustainability. The new addition of metal frames to the Stella Essentials range incorporates technically complex bio-lenses that are made from natural plant extract. McCartney's stance is also evident elsewhere, with all of the 13 women's styles being developed with a focus on using advanced technology and ethically sourced materials, such as bio-acetate, which has been created from renewable raw elements.

If there is any time of year that calls for a laissez-faire approach, it's summer, and this offering of sunglasses needs little fuss to inject an additional jolt of cool to outfits that take you from city explorations to late-night dancing (the Falabella chains sparkle well under moonlight). After all, isn't a dose of cool what everyone needs in a heady August heat? If anyone should know, it's Stella.