With "Shallow" cemented in the psyche of the cinema-going population, we've all thrown the big question out there – will Lady Gaga take home the 2019 Best Actress Oscar? – while talking fondly of Bradley Cooper's tan in A Star is Born. Spare a thought, then, for Gaga's stylists, Sandra Amador and Tom Eerebout. As awards season creeps ever closer, the duo must start mapping out potential red carpet and acceptance speech-worthy ensembles, despite no nominations having been announced.
"It's on our radar," Amador told Vogue tentatively after the A Star is Bornpress tour had wrapped up in October. "It will be amazing if [awards season] does end up happening because, aside from her talent, what really makes her an icon is the fact that she uses her platform for important issues. She doesn't shy away from it."
And therein lies the complexity of constructing a look for Gaga. As we have seen throughout her career, she will push the envelope as far as is physically possible – remember 2010's meat dress? – for her progressive art-meets-fashion, but her looks are rooted in concepts, be they abstract, political or in support of a designer she is close to. And that requires plenty of time for brainstorming, research and construction.
"We typically start with ideas and dreams," Amador explained. "[We] can put anything on the table because she wants to tell a story… Then we [Amador, Eerebout, hair stylist Frederic Aspiras and make-up artist Sarah Tanno] bring our individual research together and evolve the idea into something bigger than ourselves."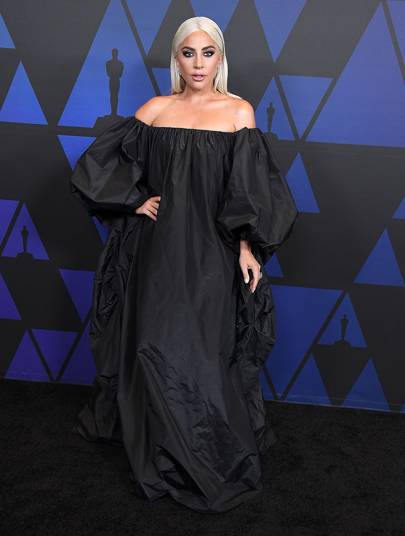 From the pink feathered Valentino in Venice to the statuesque metallic Givenchy gown in LA and the mass of ornate McQueen in London, everything on the promo trail was "100 per cent a collaboration between all of the creative individuals," Amador shared. And the recent string of Celine looks she has been modelling down to her friendship with Hedi Slimane and allegiance to his vision for the house. (Side note: we haven't seen Gaga in Slimane's glitzy, short-hemmed eveningwear yet).
Team Gaga were out in force this weekend for the Governors Awards. The event, which is now in its 10th year, might not have the same status as the SAG Awards, Golden Globes et al, but it can be considered a warm-up act for the coming months.
So, what can we read into her red-carpet look – a sweeping, off-the-shoulder black Valentino dress from the spring/summer 2019 collection? Pierpaolo Piccioli's voluminous designs have been a previous favourite of Frances McDormand, who used her time on the stage during the 2018 awards season to promote equal pay. And Valentino has resolutely become a fashion editors' favourite under Piccioli's solo reign. So, the oversized option might seem safe, but the label carries significant weight and leaves the path Gaga might tread towards the Dolby Theatre ambiguous. This is crucial in terms of keeping the bespoke commissions (from the brands, the stylists said, came calling after Gaga's cinema debut) a surprise.
Distilling various examples of Gaga's style as a Hollywood actress in order to predict what these personal orders could look like is impossible, but, as always, there are adjectives to describe the persona she will continue to present as a performer: bold, empowering and, as Amador says time and time again "fearless". Expect the unexpected come January.