In 1987, Jean-Michel Basquiat did something unexpected. The artist and social commentator, also famous for his unintentional style, walked the runway for Rei Kawakubo at Comme des Garçons. Basquiat made two exits, sporting gray suits with black Mary Jane shoes each time. Over the years, Kawakubo has put lots of famous guys with iconic looks on her runways, Dennis Hopper, John Waters, and Alexander McQueen included.
In real life, Basquiat wore Comme des Garçons often. His favourite piece, according to lore, was a simple black overcoat. The proof is in a photo of the artist with Andy Warhol, Spike Lee, and other luminaries. Now, that black coat is about to become available to the public. On November 14, Julien's Auctions is putting it up for sale as a part of its annual street and contemporary art auction, along with some of his work, including the screen print titled "Head", from Portfolio I and "Untitled (Portrait with Crown of Thorns II)", a piece made with marker on paper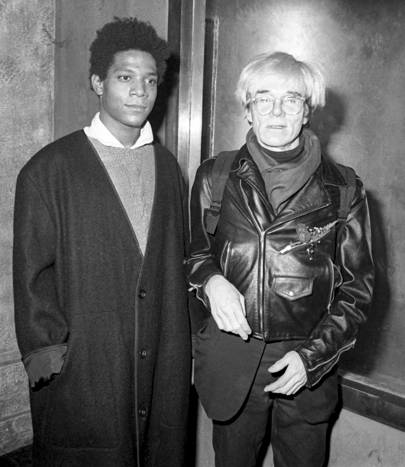 Basquiat's prized piece of outerwear was given to his estate by his late girlfriend Kelle Inman after the artist's death in 1988. And though Basquiat has certainly inspired a plethora of fashion designers who have produced collections and individual pieces inspired by him (Kawakubo has even used some of his artwork on T-shirts), it's rare that something from his personal closet comes up at auction. The coat is estimated to bring in between $20,000 and $30,000, which doesn't exactly make this piece of vintage accessible to non-millionaire Basquiat fans. The high price tag isn't at all surprising, though, since his artwork has sold for nine figures. In 2017, one of his "Untitled" paintings was purchased for $110.5 million, making it the most expensive art sale ever in the US. High costs aside, procuring a work by Basquiat is pretty much priceless. The same goes for his favourite Comme des Garçons coat.