The profound - and lasting - influence of Cristobal Balenciaga on the fashion world is being celebrated this month at London's V&A in the exhibition, Balenciaga: Shaping Fashion, that has had us all counting down the days to its opening this week. None more so than curator Cassie Davies-Strodder, who took us around the legendary location's private stores as the final preparations started to take place.
For Davies-Strodder, the 18-month culmination of work that forms the body of the exhibition not only proved to be fascinating as one would expect, but a deep exploration that took her all over the world acquiring pieces from private collectors - not easy, given the designer's penchant for not courting the press.
"He is such a mystery, because he didn't do many interviews or write a biography," Davies-Strodder explained. "It's tricky because there's a lot of mythology that builds up about someone like that. There's all these stories, but he only ever gave one interview... He was very private. For the first 10 years of his fashion house he banned the press from the first showings of his collections – they made separate journeys a month later. It could be seen as career suicide but he had such confidence."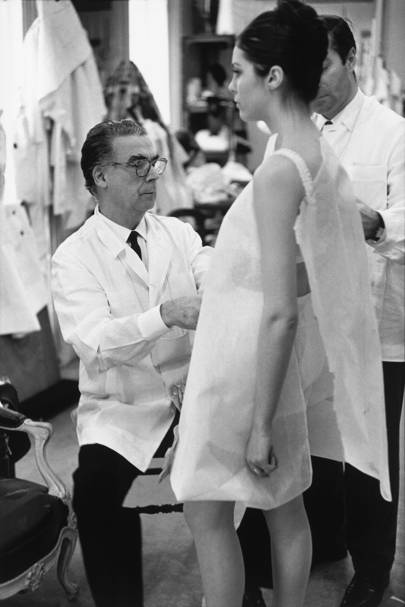 The lack of recorded work hasn't stopped the exhibition from being comprehensive. Split into three sections called Front Of House, Workrooms, and Balenciaga's Legacy, it builds on previous retrospectives of the designer's work and design temperament (Diana Vreeland famously chose to profile Balenciaga for her first major fashion retrospective at the New York Met in 1973), while bringing something new to the table: showing how his handwriting can still be seen.

Given that Balenciaga was so admired by his contemporaries (Christian Dior famously called him "the master of us all"), it comes as no surprise that his artistry continues to impact 21st Century designers. That this would play a huge part of the exhibition was a given from the start.
"We knew from an early stage that we wanted to look at the legacy up to the present day," Davies-Strodder said. "We could have stopped in the Sixties with the people that worked with him, but we felt in order to make it as relevant as possible to people, we needed to take it right up until now. Those were early decisions."
As a result over 30 designers from the last 50 years feature, showing the influence that Balenciaga's collections had on their own. Pieces from Azzedine Alaïa, Oscar de la Renta, Comme des Garçons, Simone Rocha, JW Anderson, Celine, Iris Van Herpen, Erdem, Molly Goddard, Rick Owens, Vetements, and, of course, Nicholas Ghesquiere's Balenciaga collections all feature, cleverly connecting the influential dots that resonate in modern day.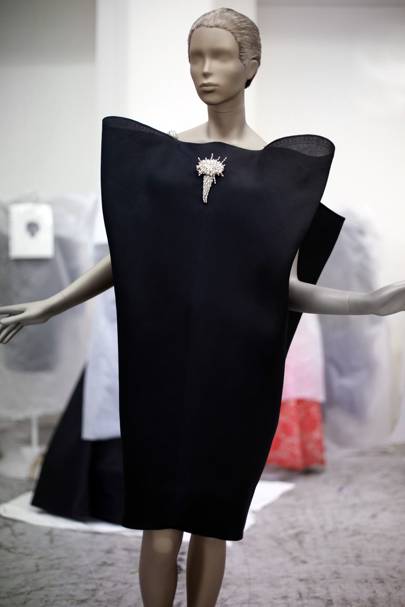 Keen to emphasise this to the audience in minute detail, Davies-Strodder and her team partnered with pattern-cutting students from the London College of Fashion, who were able to replicate and dissect famous pieces from the Balenciaga archive to show the skill involved - most notably a complicated dress that they unravelled had been made from one piece of fabric. The team also worked with X-ray artist Nick Veesley, who has presented a gown in a way to show the many layers of fabric and "the elements that are so intrinsic to the artistry of Balenciaga but that you can't see from looking at a dress", explained Davies-Strodder. With the same thought in mind, extensive thought went into how to stage the major show.
"We felt early on that he was such a different character to someone like McQueen - with whom you needed a big stage to show a big showman on. Cristobal was more about the detail and the making and so a smaller space is more appropriate to give a more in-depth look at the process," she said. "We have also pushed it in terms of audio-visual content this time as we realised early on that communicating those elements of making or the details to people is really difficult when you have a static fabric on a mannequin behind glass."
"We have the biggest collection in the UK of Balenciaga and it's strong so we wanted to focus on that," she explained. "It's largely from the Fifties and Sixties and it was mostly acquired by Cecil Beaton in the Seventies who curated an exhibition called Fashion: An Anthology. It was the first major fashion exhibition at the V&A and it was kind of a result of him ringing around his contacts – society ladies – and asking them to donate their couture, so a lot of our 20th century couture collection comes from that time. It was also one of Balenciaga's most creative periods. Where we've taken in loans, it's because the Beaton collection is a very particular type of woman he was in contact with and we wanted to tell the story of some more of his demure work with not much pattern – not only the kind of woman who was wearing the envelope dress!"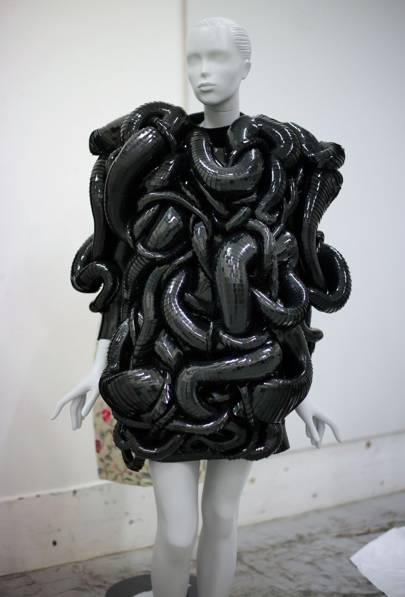 For fans of the tunic, the baby-doll and the shift dress, you're in for a sartorial history lesson; for devotees of the man himself, you're about to get to know him even better; and for aficionados of the house's current reincarnation with Demna Gvasalia at the helm, you'll see how the apple hasn't fallen so far from the tree.
"When we started 18 months ago we didn't know that the brand was going to be more prevalent than ever, so it's really fortuitous," said Davies-Strodder, referring to Gvasalia's appointment and recent acclaimed collections, adding, "We kick ourselves that Gvasalia's latest collection which is so literal is just too late for us to include."
Don't worry, there is more than plenty to see. This is an exhibition that is promising to be a euphoric celebration of the master of them all.