Vogue Arabia has chosen Gigi Hadid as the cover star for its inaugural print edition, on newsstands from March 5 across the Middle East. The cover shows Hadid – a model with Arab roots via her Palestinian father - as we have never seen her before, captured by Inez Van Lamsweerde and Vinoodh Matadin.
"Vogue Arabia is a magazine with the authority and insight needed to capture the creativity of a distinctive, evolving, and often misrepresented part of the world," Vogue Arabia's editor-in-chief, Deena Aljuhani Abdulaziz, said. "The collage of countries across the Arab world are long-deserving of a place in fashion history, and there's no better first 'face' to lead the charge for Vogue Arabia than Gigi - a model who defines tomorrow's entrepreneurial and dynamic generation."
The magazine - like its online counterpart, which launched in October 2016- is published in both English and Arabic, reflected in two covers with bilingual cover lines, and is aimed at all women in the region.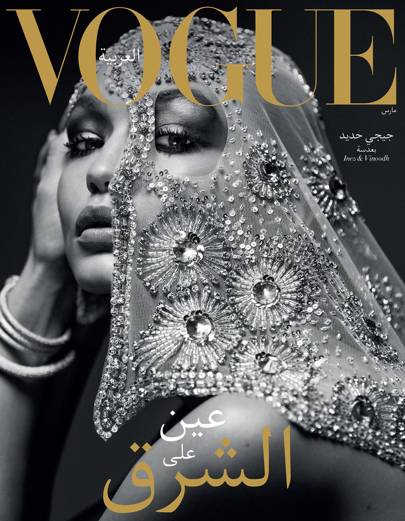 "From the very beginning we knew that we wanted to address not just a local expat community, but all fashion-savvy Arab women. This is why we launched Vogue digitally first in two languages in October 2016," Karina Dobrotvorskaya, president of Condé Nast new markets and editorial director, brand development – said today. "It's also why we do not just syndicate fashion shoots from different international editions of Vogue, and why we produce the shoots ourselves, specifically for our Arab audience."
Vogue Arabia is the twenty-second international issue of the magazine, and Hadid has already ticked off covers for more than half of them. She has fronted issues of Vogue in Britain, the US, Germany, China, France, Brazil, Italy, France, Australia, Japan, Spain and Holland (her mother's homeland), as well as several appearances on the cover of Teen Vogue. Next on her hit list: Russia, Taiwan, Thailand, Mexico & Latin America, Korea, Portugal, India, Turkey, and the Ukraine. She still has a bit of catching up to do on the two most prolific international Vogue cover girls: Kate Moss and Gisele Bündchen. Moss has never appeared on Turkey, Thailand or India's covers; Bündchen has never graced the cover in the Netherlands; and neither have appeared in the Ukraine or, now, Arabia.