Fans don't have long to wait now until Rihanna's fashion label with LVMH - rumblings of which first emerged in January - is finally revealed. The new luxury maison, named Fenty, will comprise ready to wear, shoes and accessories shaped and developed by RiRi, and is set to be presented in Paris later this month.
"Designing a line like this with LVMH is an incredibly special moment for us. Mr Arnault has given me a unique opportunity to develop a fashion house in the luxury sector, with no artistic limits. I couldn't imagine a better partner both creatively and business-wise, and I'm ready for the world to see what we have built together" said Rihanna in a statement released by LVMH today. The confirmation of the label sees her become the first woman to launch their own brand with the luxury conglomerate (the group's first new house since Christian Lacroix in 1987) and the first woman of colour to helm an LVMH house.
She later added a personal message on Instagram, writing: "Big day for the culture. Thank you Mr Arnault for believing in this little girl from the left side of an island, and for giving me the opportunity to grow with you at @LVMH. This is proof that nothing is impossible. Glory be to God."
"Everybody knows Rihanna as a wonderful singer, but through our partnership at Fenty Beauty, I discovered a true entrepreneur, a real CEO and a terrific leader," LVMH Chairman and CEO Bernard Arnault reciprocated of the partnership. "To support Rihanna to start up the Fenty Maison, we have built a talented and multicultural team supported by the Group resources. I am proud that LVMH is leading this venture and wish it will be a great success."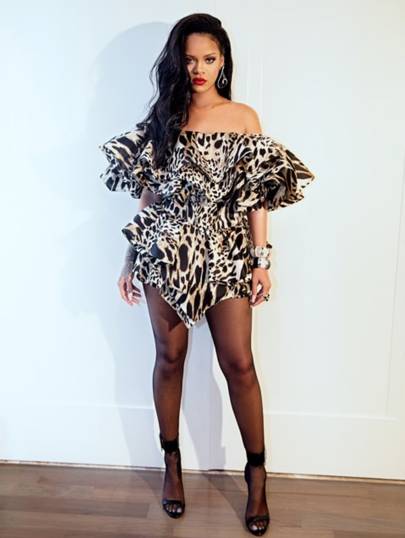 In February, findings from French accounting firm Ledouble showed that the venture – entitled Project Loud France after the popstar's fifth album Loud – was firmly in motion. Transactions filed revealed that Rihanna had invested €29,988,000 worth of in-kind contributions to the business and Project Loud France, the majority shareholder controlled by LVMH, had pledged over €30 million into the brand. A document on the recent cash flow (€29,960,000 was deposited on December 20 2018, in addition to the initial equity of €40,000 which dates back to June 29 2017) was signed by Antoine Arnault on behalf of a company called LV Group, says Business of Fashion. Rihanna is a 49.99 per cent shareholder in Project Loud France via her company Denim UK Holdings.
Project Loud France's purpose is the "conception, fabrication, distribution, commerce, importation and exportation" of products across a range of categories including menswear, womenswear, childrenswear, footwear, eyewear, leather goods, sportswear, "goods linked to lifestyle", high-tech products, office supplies, home decor and garden products, the new reports find. Jean-Baptiste Voisin, LVMH's chief strategy officer, takes the role of president at the new business, which has central premises on 24-32 Rue Jean Goujon – the same address as the LVMH Fashion Group.
If you're not one of Rihanna's 70 million Instagram followers, now is the time to click that button. The Barbadian entrepreneur teased both her Fenty Beauty brand and Savage X Fenty lingerie lines via buzzy social clips, and subsequently whipped the world into a Fenty frenzy. Her universal, inclusive appeal is magnetic – and the world can't stay away. Stay tuned to www.fenty.com for RiRi's next internet-breaking initiation day.