Hannah Weiland is feeling chipper. She has proven that the old adage "if you want something done, ask a busy person" is true. Last summer, she staged her own fabulous wedding in the grounds of her family home in Wiltshire (complete with the couple's own makeshift pub, The Arthur Arms), spawned the beaded It bag of the season, celebrated her first foray into homeware with Habitat, and signed up for her first high-street collaboration. "I was on a roll," she grins.
Fashion brands have been knocking on Shrimps's studio door for some time, but it was Warehouse who finally tempted Weiland into the mass market. "I really like the Britishness of the brand and its unique style," she shares. "The Warehouse business model isn't about copying young designers, which is very important to me. I had to respect the company in order to commit."
An initial six-hour design session threw up exciting opportunities for Weiland to develop products that Shrimps hadn't explored before, such as hats, swimwear, jewellery and shoes (something she had only dabbled in with Converse). "Shrimps is known for faux fur, so I only ever do a small summer collection," she explains. The chance to do an all-out celebration of "European holidays… particularly those on pebbly Southern Italian beaches" was too good to pass on, and the resulting edit is Weiland's fantasy Riviera wardrobe – all Fifties silhouettes in lime greens and ginghams, offset by raffia and diamanté flecked accessories.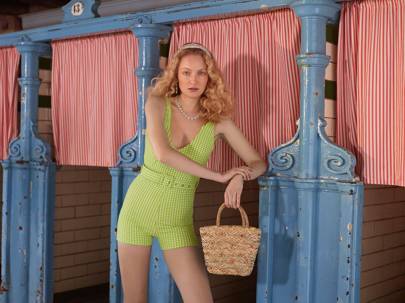 The Shrimps summer sounds most idyllic. "I was inspired by striped umbrellas, Campari Spritzes, scrabble boards and the beach scenes in the film Overboard…" Weiland says dreamily. "Then I drew prints inspired by beautiful paintings of sea beds and what I imagined under the water to look like in my dreams," The sea creature that Weiland's brand takes its name from brought the whole creative process full circle for her.
The London Fashion Week star sees no reason why the Warehouse tie-up will conflict with her personal brand, though. "It's a totally different customer," Weiland asserts. "Shrimps has a big student following and now they can have a piece of our world for a more affordable price." She's up for round two – if Warehouse asks her. "I have a habit of choosing the most expensive fabrics wherever I am, so I can vouch for the quality of the collection," she justifies. With prices starting at £15, you can't argue with that.