In her 1990s heyday, Claudia Schiffer had a bodyguard for herself and one for her underwear. "It was crazy!" she tells Vogue of the paparazzi swarming around show venues. Upon returning backstage after one particular runway appearance and finding that her smalls had been stolen, she put her foot down. "From then on, I had a bodyguard watching my underwear, too."
It was, she concedes, an "intense and amazing time in fashion" for herself and her catwalk colleagues – Cindy Crawford, Linda Evangelista, Christy Turlington et al – who rose to ubiquity as the "supers" during the same era. But Schiffer – feeling reflective three decades later – doesn't think their status boiled down to the media representation of young women who "lived fashion and loved fashion". "We developed unprecedented control over our careers, which I think speaks to debates around female empowerment," she asserts.
Scouted at 17 in a Düsseldorf nightclub, it was Karl Lagerfeld who booked Schiffer for her first catwalk show and, in her own words, "transformed me from a shy German teenager into a supermodel". Schiffer went on to close many of his Chanel shows in the 1990s as a brand ambassador and muse, who vocally supported him throughout his life. "Karl was a creative genius to whom incredible abilities just came naturally," she shares. "To watch his process and the way in which he organised everything to perfection was a privilege. He was also an incredible teacher, from whom I learnt about fashion, style and the importance of being myself."
On the legacy of the icon, who at the core was a "very sensitive, gentle and kind" man, Schiffer says: "I've often described him as the Andy Warhol of fashion, because, like Warhol, his work spanned such a wide variety of media and he understood the relationship between photography, artistic expression, celebrity culture and advertising."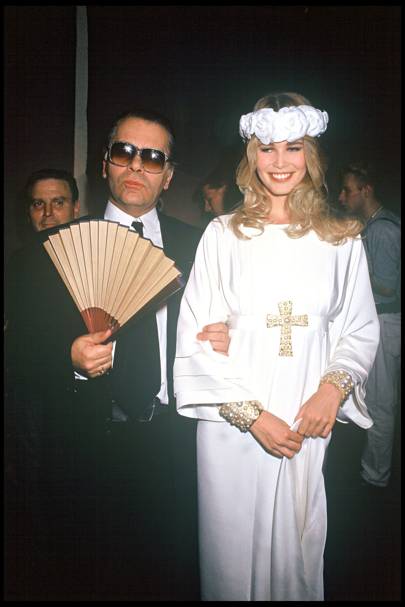 Schiffer, ever the professional at 48, is still quick to namecheck the other figures who shaped her Brigitte Bardot-esque image that will now serve as the model's own legacy. "Gianni [Versace] redefined the fashion show format," she smiles. "We'd walk out to an amazing Prince track with hundreds of photographers lining the catwalk, only to see him sitting there on the front row." Valentino Garavani's shows, too, "were like stepping into a cutting-edge fairytale world." Accordingly, her most prized possessions are a hand-painted Chanel bag gifted to her by Lagerfeld after she admired it at a fitting, a 1990s Versace metallic miniskirt and her Valentino wedding dress.
Schiffer agreed to walk in Donatella Versace's spring/summer 2018 show celebrating the life and work of Gianni on the 20th anniversary of his death, in order to pay tribute to and support the family that had welcomed a young model into its fold. But in general she doesn't look back. "I don't [miss anything about the 1990s] because I have the most amazing memories and I've been careful not to take any part of my career for granted," she explains. "I can pick and choose projects and I'm enjoying taking different avenues, including roles where I'm designing and curating collections."
Her current affiliation with Ba&sh, for example, came about after Schiffer, a fan of the brand dedicated to effortless Parisian style, met "smart and lovely" founders Barbara Boccara and Sharon Krief. They got on like a house on fire, discussing their mutual daily uniforms of jeans, cashmere jumpers and blouses. "My style is very instinctive," adds Schiffer, the label's spring/summer 2019 campaign face. With 400 stores worldwide, her instinct has paid off.
Would she back her own daughters' – Clementine Poppy and Cosima Violet – potential foray into modelling? "Having me as their mum is a double-edged sword," she says honestly. "They can learn from my experiences, but they will be under far more scrutiny." For now, Schiffer is making sure they know that their mother is as happy at 48 as she was throughout all the other years behind her. "I think age should be celebrated and revered," she grins again. "There's a reason we have cakes and parties on our birthday." Schiffer is not retiring from the spotlight yet.