Product launch strategies are in a state of flux, but if there's one label that makes sure it doesn't rely on seasonal collections alone to excite its customers, it's Moncler. Under chairman and CEO Remo Ruffini, who's never afraid to shake things up, the brand has launched Moncler Genius, calling upon eight prolific designers to create their own diffusion lines.
Pierpaolo Piccioli, Simone Rocha, Craig Green, Kei Ninomiya, Hiroshi Fujiwara and Palm Angels were each invited to create a clothing line that included a reinterpretation of Moncler's down jacket in their own distinct, imaginative style. In addition to these eight collections, the Moncler 1952 line was created in homage to the year of the brand's birth, while the Moncler Grenoble line – named after the city in the French Alps where the company began – was conceived as an opportunity to experiment with mix-and-match print fabrics on technical outerwear for mountain sports.

Piccioli kicked off the process, choosing to reimagine the duvet in a silhouette that resembles his couture cloaks at Valentino, where he reigns as creative director. The resulting floor-sweeping puffer received huge acclaim when worn on the red carpet by Fantastic Beasts: The Crimes of Grindelwaldstar Ezra Miller, who embraced the gothic impact of Piccioli's design for the promotional trail of the fictional franchise.

Simone Rocha, meanwhile, treated the down jacket to the feminine flourishes that have become synonymous with her namesake label. Drawing on images of daring Victorian mountain climbers in petticoats, she embellished the coat with all manner of distinctive florals, ruffles and beading.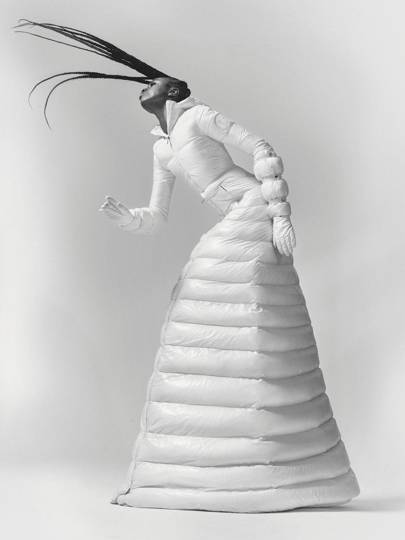 Naturally, Craig Green played with the idea of functionality, as per his brand's calling card; Palm Angels incorporated logos and slogans to give Moncler's duvet a merchandise-inspired feel; Kei Ninomiya applied his own painstaking craft to the duvet, even turning it into a knit; and Hiroshi Fujiwara reinvented Moncler's clothing through his subcultural lens.

Each of the creations might have little in common stylistically with the others, but that is the appeal of the Moncler Genius project: it speaks to all generations and styles. And, perhaps crucially, it satiates the customer's appetite for newness. Since launching at Milan Fashion Week, when Moncler invited fashion's great and good to a Milanese hangar dubbed the Moncler Genius Building, the brand has tactfully released each collection month-by-month.

With the Moncler Genius Building's doors officially open, and a customer base ready for more products that maximise on both functionality and creativity, we can expect Moncler to continue innovating. In the meantime, see how Vogue styles each designer's iteration of the iconic down jacket – modelled by Leomie Anderson, Tsunaina, Siobhan Bell and Kelvin Bueno – below. It really is genius.