Princess Caroline of Monaco in 1979, Gwen Stefani in 2002, Miranda Kerr in 2017: Dior has dressed high-profile brides since Christian Dior's tenure on Avenue Montaigne, Paris. 2018 was no less of a success in the bridal stakes for the brand. Karlie Kloss and Chiara Ferragni walked down the aisle in custom Dior confections that took 700 hours and 1,600 hours to create, respectively. As the year draws to a close, current creative director Maria Grazia Chiuri tells Vogue why the enduring appeal of Dior means that the brand will deck brides out for their big days during decades to come, too.
Dior represents the dream of fashion," says Chiuri. "The iconic silhouettes embody a timeless idea of beauty, channelling the wearer and showing off her figure, thus helping to mark the uniqueness of a moment."
The formula is really that simple: the legacy of a storied brand combined with the bespoke craftmanship offered by its atelier equates to bridalwear coveted by women all over the world. The one thing they have in common? A close relationship with the house and a budget to fund all those hours of painstaking needlework. "Each wedding dress is specially designed to showcase the bride through dressmaking that brings out their personality, attitude, movements and character," Chiuri continues. "Every woman is different. On her wedding day, it's only right that she feels herself and the star of an unforgettable moment."
First up, Ferragni, the Italian blogger and super-influencer, who married singer and X Factor judge Fedez on September 1 wearing two couture dresses for the ceremony and reception. "With Chiara, there's always been a special relationship, a deep friendship," Grazia shares. "She loves fashion and it's clear to her that it's both work and play, self-discipline and fun. Through the two dresses, I was able to bring out Chiara: strong and romantic at the same time."
The wedding dress itself required 400 metres of fabric to create the bustier and front-opened skirt made of numerous superimpositions of tulle. The reception gown, a pale pink tulle and silk organza design embroidered with motifs evoking the couple's shared history, was no less time-consuming. "What I love about these dresses is the complexity of the lacework inspired by traditional Sicilian lace, and the embroidery, which features the lyrics and melody from her own love story," its creator adds.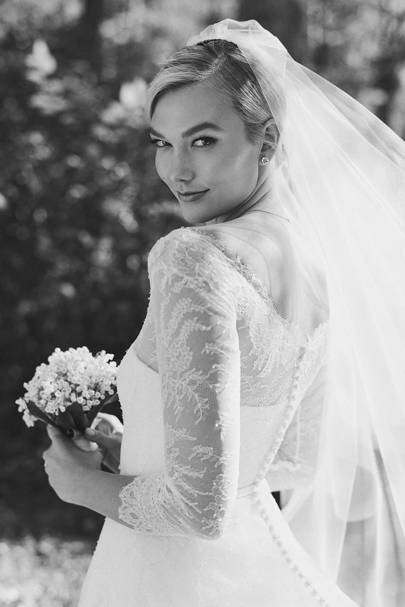 October 18 saw Kloss marry entrepreneur and investor Josh Kushner wearing a dress crafted from 400 metres of lace and 300 metres of tulle, with an additional eight metres of tulle for the veil. "I've known Karlie for a long time, she is a positive example of empowerment," notes Chiuri. "She perfectly embodies my ideal of the contemporary woman, the strong, feminine spirit I think of when I'm designing."
Chiuri wanted to create something truly unique for her "woman of today". "The dress is modelled on Karlie's body, and brings together the determined and dreamy sides of her character," she explains. Covered in Chantilly lace so that no seams were visible, the bodice was created as an extension of her skin. The skirt, on the other hand, was "a tribute to feminine lightness and grace: a wide, wispy, weightless cloud."
How does it feel for Chiuri to be asked to create such emotionally-signficant and highly-publicised gowns (Ferragni's Instagram reveal of her dress has garnered close to three-million likes and Kloss's first post amassed over one million)? "For me, [a person choosing to wear the brand] means that Dior will always be part of a happy memory," Chiuri adds. "This fills me with pride. Making a wedding dress means sharing a very intimate moment of their lives and this, both professionally and personally, is truly thrilling."
The feeling, of course, is mutual and the reason why both Ferragni and Kloss looked to Chiuri, the woman currently keeping the spirit of Monsieur Dior's maison alive, to marry in. As the designer has said before, the chapter she is writing in the company's history is about celebrating femininity and female empowerment, and bringing this message – along with the heritage – to a growing Dior audience. "People believe couture is only expensive, but it's about tradition," she told Vogue earlier this year. "There's a new generation that wants to discover craftsmanship because they really want the human touch." A proposition that no doubt hits home for brides all over the world searching for The Dress.