Nick Knight's latest project has simultaneously expanded his CV to Knightsbridge historian and master of disguise. Confused? Head to the intersection of Sloane Street and Brompton Road and all will become clear.
The photographer, British Vogue contributor and SHOWstudio founder was tasked with masking the works-in-progress Knightsbridge Estate, which will house seven flagship stores, a 67,000 sq ft office space, 35 luxury apartments and a rooftop restaurant once complete in late 2019. The theme? The Knights of Knightsbridge.
Knight took on the brief with the vigour of a self-confessed dreamer who spends his time fantasising about "really, really spectacular" fashion, and managed to swerve any Game of Thrones undertones the theme could suggest. He called in armour-like creations from designers including Gareth Pugh, Rick Owens, Iris Van Herpen, Yohji Yamamoto, Moncler and Maison Margiela and curated a blockbuster shoot that celebrated three things: the mythology surrounding the name "Knightsbridge", the multi-culturalism of the city, and a balance of established and future fashion talent, alike. New season pieces from CSM graduate Ed Mahoney are styled alongside archive John Galliano for Dior in the 18 11-metre high images that stretch 120 metres around the West End.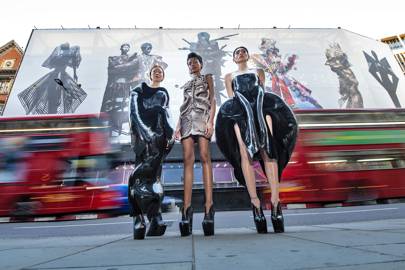 "London is such a fantastically cosmopolitan place, with so many different races and cultures coming together," he said of his delight at decorating his hometown. "We looked at different perspectives of the knight, the warrior and the protector within our city – and the country! England is international-looking, which is what makes Brexit so stupid. It's a step in completely the wrong direction."
Knight's main challenge is to get people to look up from their phones and take in his "public exhibition". He hopes it will permeate people's conscious longer than just an Instagram picture. "With any campaign image you want to get through to people and change how they perceive their lives after that. It's a big ask, but there's no point having a big billboard and saying nothing," he shares. "You want people to look at the world in a different way after they have seen the world that you've created."
The photographs will punctuate the landscape for 18 months, and Knight has resided to the fact that his work will be subjected to considerable wear and tear. "Fashion is supposed to be entertaining, but the weathering of the images also shows its purpose," he muses. Adapting and evolving is what Knight, as an industry figurehead, does so well. Let's hope his dose of fashion fantasia influences the country too.