1. Personal Best
Stick to your own style: there's no need to succumb to the peculiar form of wedding panic that dictates overblown florals and cupcake colours. If you always wear black, go ahead, just make sure your accessories are zingy. And if you do decide to wear florals, toughen them up with metallic jewellery or a fierce pair of shoes.
2. Beyond The Pale
Don't set out to steal the bride's thunder: never wear white. If you must wear pale colours — or are eyeing up flirtatiously revealing necklines — clear it with your host first, preferably with an accompanying visual sent via WhatsApp.
3. Something New
For ultimate style kudos? Name-drop a brand that's reassuringly niche: the Vampire's Wife, Brock Collection, Kitri and Sea NY are the names to know for British weddings; if you're on the Continent, the chicest guests wear Johanna Ortiz, Ulla Johnson and Cult Gaia.
4. Head Turners
Avoid fascinators at all costs — they only ever look half-hearted. Take your cue from Simone Rocha and opt for crystal-frosted hair clips, or try Emily London for quietly spectacular pillbox hats.
5. Matchless Chic
Remember the matchy-matchy rule: never coordinate your bags, shoes and belt — unless they're Chanel, of course.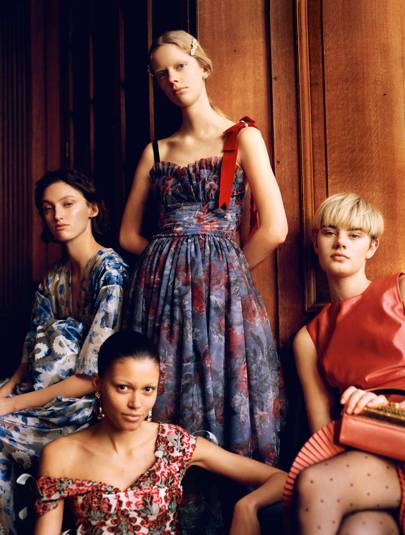 6. Come Clean

Forgo the fake tan. No one wants to be the well-wisher who smears Ginger Nut orange on the bride's dazzling gown.

7. Warmer, Warmer

A cardigan is no longer off-limits: pin it at the throat with an heirloom brooch, a la Erdem, and let the arms fly for an instant update. Or invest in a cocktail coat — it will come into its own in the British wedding season. Alternatively, an oversized blazer over a pretty dress looks modern.

8. Style Trips

Take note of the terrain: stilettos won't hack it on gravel, cobbles or grass. Choose platforms or wedges instead, and pack a pair of jewel-tone satin Le Monde Beryl flats for when ankle-ache sets in (do not, under any circumstances, take off your shoes on the dancefloor). Never wear boots — they always look matronly.

9. To Have And To Hold

Clutch bags, begone! A dinky strap-handle bag from Bienen-Davis, Dolce & Gabbana or Marni is an instant ice-breaker, and will nestle in your elbow as you negotiate champagne.

10. Renew Your Wows
Yes, you can re-wear a dress to multiple nuptials, as long as you switch up the statement Alessandra Rich or Rebecca de Ravenel earrings.