DKNY creative directors Maxwell Osborne and Dao-Yi Chow will leave the label at the end of the year and return their joint focus to their own brand, Public School. The news comes shortly after the sale of DKNY and its parent company Donna Karan International (DKI) from Kering to G-III Apparel Group for $650 million in July.
"Given the company sale and subsequent change in strategies, we have decided to step down and focus on our own business Public School," said the pair - who have been with DKNY since April 2015 - in a statement, reports WWD. "It's been an unbelievable experience to work side by side with the wonderful people at DKNY, especially our amazing design team and atelier. We wish the company success in the future."
In addition to Osborne and Chow, CEO Caroline Brown will also leave her role as 2016 comes to a close.
"As Donna Karan International transitions to new ownership and therefore new directions, I have decided it is the right time to step down and explore new opportunities," said Brown, who would have marked two years in her role in January. "This decision accompanies much appreciation and admiration for all of the talented teams here, our founder Donna Karan and our creative directors Dao-Yi Chow and Maxwell Osborne. I know the company rests in good hands under the new leadership of G-III for the next stage of its development."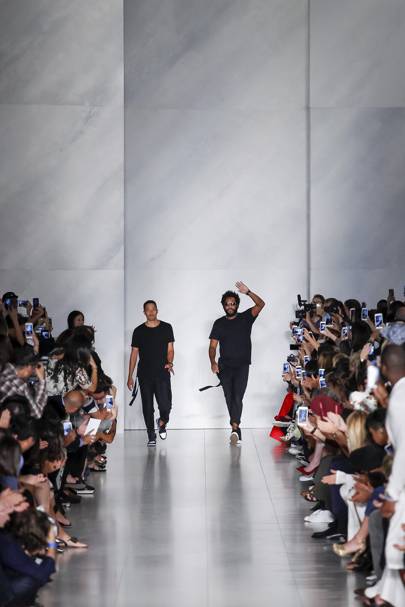 Donna Karan, who remained on as a close advisor the brand after she departed officially in 2015, said yesterday: "The people of Donna Karan have my heart. Together, as a family, we created and built two brands — Donna Karan and DKNY — that I will always be thankful and proud bear my name. I want to send everyone at the company my love and thanks for their enormous energy, passion, creativity and dedication, and good wishes as this new chapter begins."
While the search for a new CEO and creative directors commences, the company will be managed by Morris Goldfarb, chairman and CEO of G-III Apparel Group, who emphasised the importance of Karan's involvement with the brand moving forward.
"I've spoken to Donna several times. We don't know what direction that will take," he said when asked about the possibility of Karan making a return, reports WWD. "Clearly this is an important name to Donna as it is to us. She's interested clearly on how we've positioned it, how we protect her name, her DNA. Donna is extremely talented and I respect everything she's done."