Alessandro Michele is a generous guy; not only does he present extensive, accessory-laden shows, most recently on a flame-bordered runway in Arles, France, but he also spreads the love by sharing his enthusiasms. In recent seasons he's enlisted the up-and-coming talent Coco Capitán and introduced the fashion flock to the graffiti writer known as GucciGhost. His latest find? À Paris chez Antoinette Poisson, a Parisian company formed in 2012 by a trio of entrepreneurial paper conservators: Julie Stordiau, Vincent Farelly and Jean-Baptiste Martin. The brand, which is much lauded in interior design circles, is named in honour of the Marquise de Pompadour, who the team describe as "Louis XV's favourite, [a] patron of the arts and wallpaper enthusiast."
Antoinette Poisson's niche is the making of domino papers (papier dominoté), using artisanal techniques that date to the Age of Enlightenment, when these patterned sheets with their distinctive patterns - small geometrics or sinuous floral garlands - were all the rage. These motifs are printed on a single piece of paper using woodblocks and then hand-coloured using stencils. Their compact sheet size made dominoes ideal for use as trunk liners or endpapers, but their allure was too great to keep under covers, as it were, and they were adapted for use as (pre-roll) wallpapers. At the time, decorating with domino paper signalled not only the owner's taste, but also their wealth. Their production stopped with the advent of the 19th-century Industrial Revolution. Today, notes Stordiau, the block print, "is now a technique for the artist, not for industrial production."
Stordiau, Farelly, and Martin have embraced the challenges of artisanal creation, and almost all of their products - trays, boxes, fabrics, and wallpapers - are fabricated in their Parisian atelier using time-intensive 18th-Century techniques. Even the paper sheets they use are handcrafted in a mill that uses methods dating to that earlier, gilded age. The impetus to launch Antoinette Poisson came when the trio re-created a domino paper for a restoration project. The results were so marveLlous, that the team decided they "wanted to propose [this style] for current decoration." Their timing was fortuitous; wallpaper, says Stordiau, is enjoying a democratic resurgence. And as for the romantic Rococo style, well, that's constantly being revived. (For a fix, stop by Visitors to Versailles at the Met or rent Sofia Coppola's Marie Antoinette.)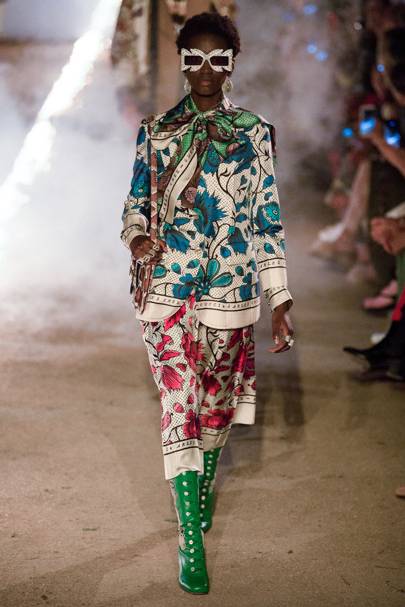 Michele's certainly not immune to the charms of the Rococo, having included textiles that wouldn't have looked out of place in the Petit Trianon in past collections. Happening upon Antoinette Poisson's work at John Derian, Gucci's main man commissioned the trio to hand-paint the floor of the Gucci Wooster flagship and to create unique textiles for the Resort collection.
The AP team were, of course, aware of the Gucci renaissance man in part, says Stordiau, because "a lot of portraits of him have been taken in front of ancient wallpaper. He loves motifs as much as we do!" Their meeting fits the textbook definition of "match made in heaven" on several levels. "Designs of domino paper are strongly connected to history of Provençal textiles," explains Stordiau. More importantly, the four creatives look at the world through similar lenses. "We both draw our inspiration from history," the team replies when asked about such parallels. "We are not nostalgic, more grateful of what was created before." Yoking the flowery flourishes of 18th-Century patterns to rave culture was a bold move on Michele's part, and one that was embraced by Antoinette Poisson. "Rather than the pattern, it is the production that is connected to rave culture," Stordiau states. "We are working in opposition with the system to produce more and cheaper." Vive la révolution!