Kristen Stewart, Janelle Monáe, Naomi Campbell and Claudia Schiffer joined fashion's great and good on the morning of March 5 to mark the legacy of Karl Lagerfeld at the Chanel autumn/winter 2019 show. The presentation was prefaced by a moment of silence for the late German couturier – who died on February 19 after devoting his life to the craft – within the "metamorphosis" imagined by himself and his successor Virginie Viard in the Grand Palais. The venue, which has been the setting for some of the designer's most fantastical creations and a keyhole to his imagination, was decked out to look like a winter wonderland or "Chalet Gardenia" – all log cabins (complete with smoking chimneys) surrounded by snow-capped mountains.
Amidst the models cast for the landmark moment were Cara Delevingne, who was made a brand ambassador in 2015 at the age of 19, Kaia Gerber, who collaborated with Lagerfeld via his eponymous label in 2018, and Penélope Cruz, who was officially brought into the fold last year, too. Her premiere turn on the Chanel runway, wearing what the brand described as a "snow-ball skirt", would have been lightyears away from the first catwalk show she attended as a fan of the brand in 1999.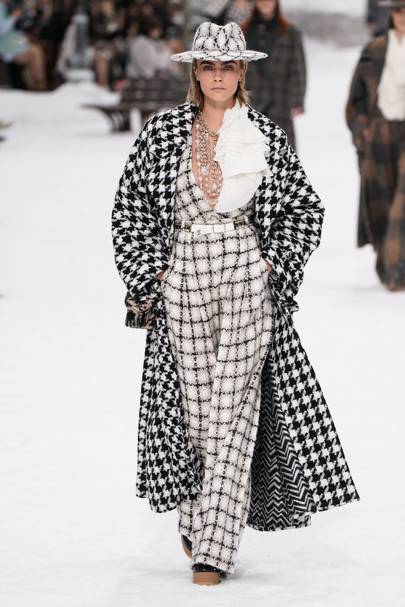 It was Delevingne who made the first exit and led the final procession down the makeshift catwalk in the peaceful mountain village. Instead of forming a uniform straight line, the women strode arm in arm, embracing the tears as they metaphorically waved goodbye to the iconic designer and his tenure at Chanel, which the show notes described as "eternal and constantly renewed, identifiable and yet different every time".
But, as David Bowie's "Heroes" faded out and the industry filtered out of the fantasy snowscape into the real world and on to the last shows of Paris Fashion Week, it was a poignant reminder of Lagerfeld's impact on the industry as a whole. As the invitations decreed, "the beat goes on..."