Research commissioned by Walpole, a body for the UK luxury industry, has asserted that up to a fifth of British luxury exports equating to a value of £6.8 billion would be at risk if the United Kingdom left the European Union without a deal on March 29th.
"British luxury businesses are committed to staying in Britain, but we are losing patience with the government taking us to the knife edge of no-deal," said Helen Brocklebank, chief executive of Walpole. "The cost to the UK economy in lost exports from British luxury will be nearly £7 billion and we believe that money should be used to strengthen the country not diminish it. We urge the government categorically to rule out no-deal exit."
The research was commissioned on behalf of the 250 luxury brands that Walpole represents – including Alexander McQueen, Burberry, Harrods and Net-a-Porter – out of concern that Britain's post-Brexit future looks ever muddied as Theresa May struggles to strike a deal.
The biggest financial damages will be a result of tariff changes as 80 per cent of Britain's luxury goods go overseas, with Europe its largest market, according to the research. This is backed up by designer and campaigner Katharine Hamnett. "Seventy-five per cent of our components in fashion are imported, so, after Brexit, they would all become more expensive," she told Vogue of the threat to the previously fluid trading relationship. "We don't yet know what import and export tariffs would be imposed, but there will be costs, thus making us less competitive. Delays in shipments would increase, which is terminal for fashion as it is such a time-related business with little flexibility for late delivery. This could cause punitive penalties that would hit the industry financially."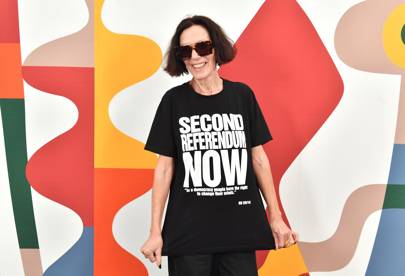 Indeed, as lawmakers prepare to vote on another revised deal, it is the uncertainty underlining the future that makes the fashion industry so vulnerable. Fashion critic Sarah Mower expanded on the issues that are causing British designers sleepless nights, and international labels to get frustrated at the lack of answers available: "Most of the British fashion talent we have are small, medium and emerging companies," Mower told Vogueafter May's historic parliamentary defeat in January. "Just the idea of having to deal with the massive complications of extra form-filling, delays in shipping, the stopping of the easy flow of goods and people in and out of Paris, as well as other European locations such as Italy, Portugal and Romania, where fabric is bought and clothes are manufactured, is enough to threaten the closing down of an entire sector of the UK's £32 billion fashion industry."
If May's deal is defeated today, there will be a vote on March 13 regarding whether to leave the EU without a deal on March 29. If lawmakers reject this, a vote on March 14 will discuss delaying Brexit again. As Mower iterated: "We are facing a national emergency; the politicians have failed to show they have concern to protect jobs in fashion or any other UK industry." Walpole's stats only bolster what the industry has feared all along.