During a turbulent time in Paris, where anti-government protests are impacting the tourist and retail climate, Karl Lagerfeld has weighed in and pledged his support for the capital. The creative director will stage Chanel's next cruise collection on May 3 at the Grand Palais.

Reprising the exact date and location of last year's cruise show – the occasion that called for a gigantic ocean liner to be constructed as a celebration of the real cruise lifestyle – might not seem significant. The Grand Palais has been transformed into the fantastical worlds that represent Chanel ready-to-wear and haute couture, from beaches to supermarkets and casinos, since 2005. But, Lagerfeld did not intend it to make headline news. Rather, it's a quiet statement of a brand reinforcing its commitment and support to its home during a time when the forecast for Europe looks cloudy.

"Karl Lagerfeld's decision to hold the show at the Grand Palais demonstrates the close link between the house and this exceptional location, and confirms Chanel's desire to contribute to the cultural and artistic influence of Paris around the world," the house commented to WWD.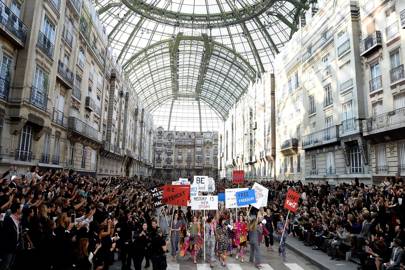 Last year a handful of brands, including Gucci, Dior and Louis Vuitton, bucked the trend for showcasing cruise collections somewhere exotic and far-flung and all presented in Paris. The latter has announced it will stage its cruise show on May 8 in New York, but the former brands have yet to announce show plans. Chanel's May 3 slot at the Grand Palais will buoy up Paris's fashion calendar for the spring of 2019, before the brand's brief sojourn to New York in December for its travelling Métiers d'Art spectacular.
In 2020, renovation of the historic venue will begin ahead of the 2024 Olympics in Paris. Chanel, the private sponsor, has pledged 25 million euros to the Grand Palais works, and near 5 million euros to aid the creation of permanent exhibition spaces at the Palais Galliera fashion museum.