Demna Gvasalia fell in love with Paris by moving away from the city and starting to see it through the eyes of an outsider. His co-ed autumn/winter 2019 collection is his "modern vision of Parisian style". "I started again to look at the codes of Balenciaga that are important to me, modernise them and bring them back," Gvasalia told Voguefashion critic Anders Christian Madsen of the 109 looks. "There is no Balenciaga without Paris."
The campaign is a continuation of the designer's ode to the capital, and plays on its clichéd reputation for romance. The twist? The models in the postcard-worthy frames are couples, who were cast for their real-life chemistry.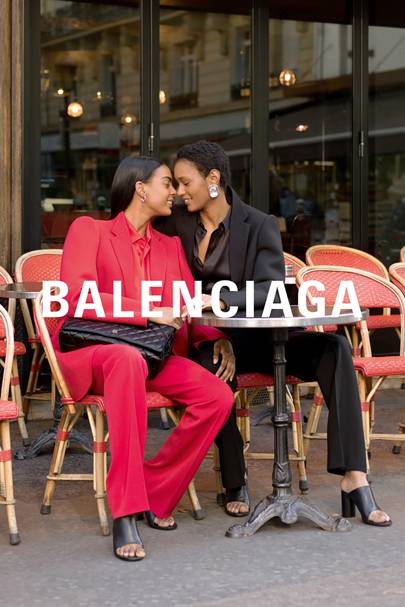 Shot by wedding photographer Greg Finck, the campaign's quintessentially Parisian flair and romantic overtones are undercut with Gvasalia's typically Gvasalia aesthetic. The focus of the fashion is on outerwear, and the new ways the creative has found to shape-shift Balenciaga's tailoring. "This house has such a long story, but my job is to modernise it and make it appealing to the customer we have today," Gvasalia continued. "That was the exercise."
As well as the "striking silhouettes [which] speak of a modern joie de vivre", according to the press release, the Balenciaga shoppers are a focus. The iconography on the luxurious take on carrier bags emulates Parisian tourist kiosks, but really serves to highlight how shoppable Gvasalia's streetwear still is. "[The collection] is for people who actually love fashion and go shopping. That's what I do," he surmised.