Very little was known about Daniel Lee when
Kering
announced in mid-June that the 32-year-old Brit was taking over as creative director at
Bottega Veneta
. Beyond Lee's age and a handsome photo of him in a white T-shirt and jeans, the Kering press release stated his most recent position as director of ready-to-wear design at Celine and a string of posts at Maison Margiela, Balenciaga, and Donna Karan. Five months later, the industry knows not much more about him. Anomalously for a millennial, Lee doesn't have an Instagram account and hasn't been making the social rounds in Milan. By his own account, his closest friends aren't in fashion. He's focused on the work.
But it won't be long now until his vision for Bottega Veneta starts to come into focus. Lee is presenting his much-anticipated pre-fall 2019 collection for women and men in Milan on December 11. Prior to that he has shared 10 portraits from the house's spring 2019 offering exclusively with Vogue Runway; think of them as a sneak peek for next month. He didn't design the collection – his start date precluded that – but he did "tweak" it. "My first instinct," he says, "was to clean it all up and get back to what really felt essential." That's a rather good way to describe his approach to his first interview in his new role.
With his behind-the-scenes days more or less behind him, Lee discussed the place of logos and celebrity at the new Bottega (don't expect much of either), his take on his predecessor's tenure (he admires Tomas Maier), and his own Celine learnings ("to push things as far as you can") with an easy, cheerful concision. When prompted about his personal influences and icons, he turned our discussion to the importance of his Bottega team: "Everything we do is done together." The guy is humble, too. Though he describes Bottega as being about "a heightened aspirational reality," Lee's ambitions sound almost simple: "to just make some really great clothes, for people to live in and love and really enjoy." The highlights of our conversation are below.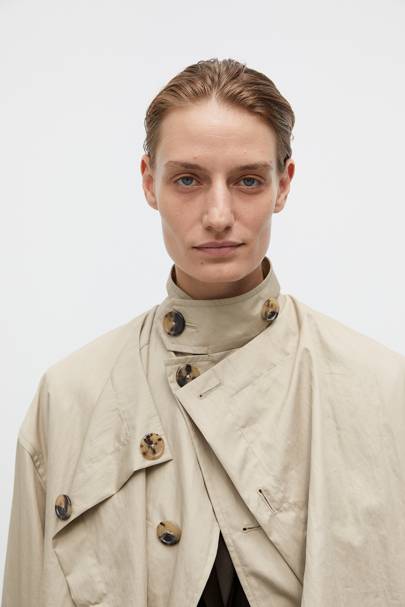 Let's talk about the photos. Why have you decided to make this your introduction?
When I joined the company, obviously it was very far into the development of the [spring 2019] season. What felt like the right thing to do was to make a bit of a palate cleanser. The portraits came about while we were taking pictures for the lookbook. It felt like a good omen, like a signal to the world: to create a new grounding and jumping-off point.
What do you see, then, as your mandate at Bottega? When they hired you, what did François-Henri Pinault [Kering chairman and CEO] and Bottega CEO Claus-Dietrich Lahrs say they wanted?

For me, what's extremely exciting about Bottega is the project was a complete carte blanche. Mr Pinault is very supportive; he really lets the creative rule, which I think is why he's had so much success in recent years. He's an inspiring person. What Bottega represents is an idea of true luxury that I really don't feel is so much around right now. We speak about quality, a timeless elegance, an almost quiet confidence, which I think is the opposite to all the noise we see around us.
When your appointment was announced, your CEO said, "Daniel has a deep understanding of the house's current challenges both in terms of creation and development." What do you see as the challenges, and also the pleasures of working there?
Bottega was a bit of a sleeping giant. Tomas [Maier] led the house with a very strong vision in a very respectful way. He never faltered, he never deviated and went for a fat cat kind of approach. It's amazing to me to be able to take on such a house with such a respected identity. Bottega has an amazing heritage in the leather goods area. We have an amazing facility; we have an amazing savoir faire. But also the ready-to-wear and the shoes and the jewellery are categories that are very exciting to me, and they never have been fully exploited. So it's a really exciting moment to do that.
At the time of your appointment, reports mentioned Bottega's efforts to maintain relevance, saying it wasn't connecting with the shifting desires of millennials. Do you agree with those statements?
I just think the world changes very fast. Obviously I'm from a very different generation. I am a millennial. To me it's not a foreign territory. I grew up with the Internet. I'm aware of social media; I like it in some respects, I don't in others. It's part of modern-day culture. Obviously, fashion is about change; it's a kind of conversation about the world. Yeah, we have to keep up, for sure.
Everyone is very curious about you. Can you share a little about your personal aesthetic? How was it formed? Who are your influences and icons?
Bottega, the way I look at it, is very much about the project and the work. It's not about me as a person. I think we really work very much as a team here. The biggest thing for me about fashion: It's about people. So take that any way you'd like. It can be people in a movie, people in the street. It's a collage of many different influences.
Talk about your work history, then. You spent five years at Celine; what would you say is the biggest thing you learned there?

The biggest thing I learned? To always push harder and try and make things as best you can. At Celine, we definitely pushed it as far as we could. You know, I've had some great mentorships. I've worked with some amazing creative directors in the past, and each one has taught me many things. But I think you have to stay true to yourself and work from the gut.
You went to Central Saint Martins. What made you want to go there as a young man?
Well, I'm from the north of England, which is lightyears away from where I'm sitting now. I'm from a very small town; the art and culture world really doesn't exist [there], so when I first visited London I was so enthralled by all the noise and the excitement around me. Central Saint Martins was a completely new environment.
But you were into fashion from a young age?
I didn't really know that much about fashion. There is no fashion where I'm from. What I like about this job is there are many different facets to it—part of it is creation, but it's also business. It's also often dealing in a foreign language; you meet people from all around the world, so there's the travel aspect. There are so many great parts of this job; it's not purely about designing.
You've been at Bottega since the summer, and you've had time to study the business. What would you say is missing, and what do you want to add?
For me, I want to add a big culture around the ready-to-wear. I really think that's where it starts, in terms of building a vision and building a brand. That's my main focus. Obviously the upcoming pre-collection and the [autumn/winter 2019] show is very much led around the ready-to-wear.
I'd like to hear what you think people will notice; the difference between Bottega a year ago and today.
The first pre-collection is very much about building an iconic wardrobe. For me right now, designing real clothes is more exciting than a fashion message. We really need to establish who our icons are and have a bit of an immediacy around the clothes. I really want to evoke a kind of youthful determination in the work. Like you were saying, I'm from a different generation and this idea of a global inclusive community is very relevant to millennials now.
Will this be the first time you're doing menswear? Are you enjoying it?
The idea of this collection really has been about building a wardrobe, so it's great to make things you want to wear. This is my first experience of doing that, because I've always worked in womenswear, and I think you definitely see it from a different perspective if you're able to try things on and experience the clothes. It adds a different facet, for sure.
I've seen one picture of you so far, and you're wearing a white T-shirt and jeans. Tell me about your personal style.
I'm wearing a white T-shirt and jeans now [laughs]. I'm quite casual. I love tailored clothes; that's something I love to make, but I feel kind of uncomfortable being too formal. I'm definitely more comfortable in knitwear, jeans, and a T-shirt. And trainers.
So you'll be adding denim and more trainers to the Bottega line-up?
More trainers, definitely, but I'm kind of bored with that, honestly. Talking about Italian style, when you look at films or these great people from the past, the Agnellis, there's definitely a done-up elegance. It's time for that to come back in fashion.
How has the adjustment to Milan been?
I still have my place in London, because I think it's really important to get out and see the world. Milan is tiny, and it's very insular. That said, it's great for focus and for work.
One thing I remember from years ago at Bottega shows was the phrase at the back of the runway: "When your own initials are enough." Now, of course, we're living in a logo-obsessed time. Where do you stand?
That's what is interesting about Bottega. We have a name and everyone knows it, but it's not going to be about logoed product.
What about celebrity? Fashion is also in a celebrity-driven moment.
Bottega is a brand that talks about sophisticated elegance. It's almost about being quiet. A silence in all the noise. A kind of stillness. For me, life is really all about living in the moment. I don't have social media. I try and use my cell phone as little as possible. I definitely prefer human interaction. That's very important to me and to the work I do. Design is also about living in the moment. It's about working with whatever you have at hand and making the best of a situation. Celebrity? I think it's a very different kind of world than what we're in.
If you're not working and you're not on your phone and you do have free time, what do you like to do?
I play a lot of sports; I go to the gym. I spend time with my family. I'm very close with my family and friends, and none of them works in fashion. It's a very different world. Also, I enjoy watching TV and relaxing at home. The days are intense.
Back to these pictures. Spring was designed before you arrived, is that right?
I tweaked things. What I did was edit, I'd say. We're working on my first pre-collection, which will be out at the beginning of December, and I really wanted to swing into action on that. Obviously it's a fashion business; we need product in the stores, so I edited [spring] to what I felt was essential. For me, it's really important that the February show is the moment that we show to the world what Bottega is, and that the work really speaks for itself.