It's not often that the UK produces a female artist who can not only carry off triple denim with aplomb, but is also just as renowned for being vocal about feminism and spreading kindness as she is at putting out records. "It's good to scroll through social media and see something nice that makes you feel better about yourself, rather than something that's going to bring you down," Dua Lipa says, speaking exclusively to Vogue. "Let's actually stand up for women, let's actually be nice to each other because people are becoming keyboard warriors where they can hide behind a screen, and they can say what they want."
It's instantly apparent why Lipa, Vogue's January 2019 cover star, is a natural fit for Pepe Jeans London's spring/summer 2019 campaign. Regardless of her having already mastered her own sense of style – thanks in part to "experimenting and trying out styles, without being afraid of fashion" – Lipa is a 23-year-old woman who represents the change she wishes to see for women everywhere, including making "fashion feel like something that's accessible to everyone".
And accessibility is certainly at the heart of the Pepe Jeans London brand: having first emerged in 1973 on London's Portobello Road, it's brought timeless denim pieces to the market ever since. It's something Lipa - who says she grew up wearing Pepe Jeans London - can relate to. "It's a British brand and I feel like it has kind of followed me through my life," she explains. "I remember when I was younger seeing the campaigns – featuring Sienna Miller and Alexa Chung – women who are really iconic, and I'd see them on posters and on the side of buses."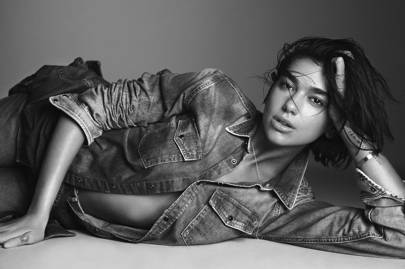 Maybe that's why when working on the black-and-white campaign – photographed by David Sims – it felt "like a very natural collaboration". It shows in the final pieces: a collection of well-cut jeans, laid-back slogan tees and effortless denim jackets, all made using new eco-technologies thanks to the brand's newly created Tru-Blu programme, which focuses on sustainable denim manufacturing.
Born in London to Albanian parents, Lipa makes her mark as the first musician to front a campaign for the brand – a feat she was thrilled to achieve. But in truth, Lipa has been racking up milestone moments ever since she first released her self-titled album in 2017. She made history after being nominated for five categories at the 2018 Brit Awards – becoming the first female to do so. Not to mention the fact that she's held the title of most streamed female artist in the world for the past two years.
"People are starting to slowly wake up to the fact that it's not that women haven't been working hard or that we haven't been pushing ourselves forward," Lipa explains. She's talking about her Grammy acceptance speech, which saw her make a direct reference to Recording Academy president Neil Portnow's suggestion that women needed to "step up" in order to be recognised within the music industry, a comment he made in response to the public's disappointment regarding the lack of female winners at the 2018 awards show. "It's just that we haven't been taken seriously, or been given opportunities. I hope for years to come we'll just bring sprinkles and sprinkles more of that, to the point where we feel equal to men, and where we have equal opportunities [to them]." But for Lipa, the formula for women's success is simple: "I think it's about the public not being so hard on women for wanting to be ourselves."