Liberty London has launched a new initiative, entitled Liberty Discovers, to mentor, encourage and showcase emerging British creatives. "It will support not just fashion but craftspeople across the board," Madeleine Macey, communications director and founder of Liberty Discovers, tells Vogue exclusively. "Our unique set-up allows us to offer insight to our discovery talent depending on the stage of their development – from finance to marketing, design, fabric and product – and then routes into production and wholesale."
Three London Fashion Week designers – Matty Bovan, Duran and Daniel Tanner – have been selected to help launch the programme during the autumn/winter 2019 shows. "To get to work with such an iconic brand is so exciting – the heritage and history is so inspiring," says Bovan, who delved into the fabric archives to select prints and textures for his brave, through-provoking designs.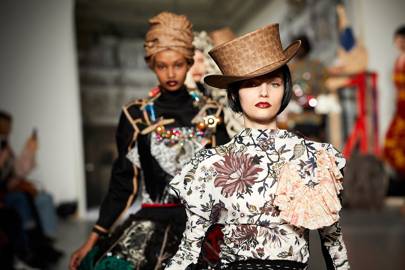 Duran, who caught the attention of many in the industry thanks to his debut collection, "Straight from the Bin Sales", which comprised re-worked items from Liberty's previous ranges as a response to mass consumption and Black Friday, has upcycled Liberty London products again for this season. Daniel Tanner, who Liberty has supported with fabrics since his MA at the London College of Fashion, has sought advice from the brand's womenswear buyer, Alex Gordon, as well as using Liberty fabrics.
Matty Bovan

Aside from archive access and mentorship from the buying team, each creative will receive help from the brand's communications platforms to heighten exposure, and be able to use its in-house product and fabric design studios, too. "There will also be a combination of events, installations and exhibitions with their creations over the year," says Macey.


Duran

For Bovan, the success of the programme lies in having the platform to truly showcase British craftsmanship and heritage: "I really want to inspire people and show Liberty in a fresh way," Bovan explains. "I've always been such a fan. Liberty is such a quintessentially British brand and I love to showcase British craftsmanship and heritage."