"The most important relationships are at home," Yolanda Hadid – mother of the world's most famous sister act and Vogue's dual March cover girls – Bella and Gigi Hadid – explains. "Your mom will always be your number one fan and someone that loves you unconditionally, so whoever you are, use that relationship!"
Hadid, who found fame in The Real Housewives of Beverly Hills, is back on screens as the host of Making a Model, an eight-episode TV series that sees her teach six pairs of aspiring teen models and their mothers the secrets of working together to create a successful brand.
Having forged the careers of Gigi, Bella and her youngest son Anwar, she is well-equipped for the job, but, she tells Vogue, "I don't understand the word 'momager'."
"The jobs of a mom and manager are very different," she clarifies. "My girls have a manager [Luiz Mattos at IMG], and I work very closely with him, but my place as a mom is in the shadow. I put Gigi and Bella in the light rather than controlling every step they make. The journey is about them, not me."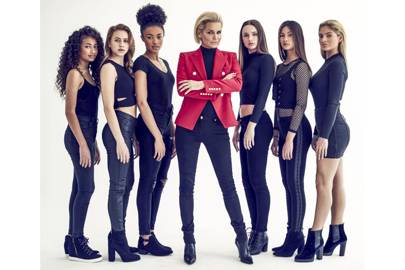 The Dutch-American former model wouldn't let her daughters embark on the "journey" until they each turned 18. "I wanted them to have the time to develop as young women, to read, to play sport, to wear no make-up, and just enjoy themselves," she explains. "When Gigi was 16 she couldn't wait to work because other girls were getting jobs. I told her to trust me and wait, and four years later, she thanked me for giving her those two extra years of childhood."

Gigi, she says, "always knew she wanted to be a model," but Bella "fell into it" after Lyme disease prevented her from pursuing her dreams of professional equestrianism. "Modelling wasn't her intention," she notes, "but, you know, stuff happens in life and you're pushed in different directions because of obstacles."

Success, for Hadid, isn't about the number of covers or campaigns a model has to her name, but longevity. "To be authentic," she says. "Modelling is not only about selfies, it's about using your voice as a role model and giving back to the world."

It all roots back to the support mechanism available at home. "Social media has disconnected us from the most important people in our lives," she sighs. "We've stopped communicating with them in a normal way." Escape from the internet, for the Hadids, comes at the family ranch on the East Coast, but on Making a Model the she bans phones and forces the mother-daughter duos to share bunkbeds.
"It was a beautiful experience to watch," she shares. Each, as they say, to their own. Making of a Model with Yolanda Hadid is on at 9pm every Thursday on Lifetime.