Begone, bejewelled kitten heels and feather-sprouting sandals: the shoe of the season is undoubtedly the 1990s meets sci-fi "turbo" trainer in all its globular glory - the more impossible-to-get-hold-of, the better. But where should a self-respecting fashion fan go in pursuit of those elusive BalenciagaTriple S kicks? How can she get hold of a pair of Acne Studios' Manhattans or Pharrell x Adidas's HU Holi Blank Canvases? As of Monday, it seems setting one's compass to Selfridges might be the answer.
The mammoth department store is the latest business to register the rise of the female sneaker geek. Today, it opens its sneaker gallery, a brand new 187sq m space within its newly renovated shoe floor in the Oxford Street flagship. The space will offer over 700 styles and will be split into two categories: "the fashion sneaker", with 264 options from big-ticket luxury labels such as Chloé, Gucci and Balenciaga; and the regulars, with 500 styles in partnership with sports shoe haven Offspring. It will also be the only bricks and mortar store to stock Nike's 1 Reimagined collection: the reworked designs of the Air Force 1 and Air Jordan 1 shoe styles currently blowing up the internet.
"There has been a massive shift in the streetwear side of the business: it's far less male-dominated," says Eleanor Robinson, director of accessories at Selfridges. She noted the swing during a much-hyped event for the launch of Virgil Abloh's collaboration with Nike. "It was a ticketed event and people queued overnight in the street, from 10pm. There were quite a few girls in the crowd. The purists have always been into it, but more and more girls are becoming attracted by the cool factor of limited-edition releases: they're credible, hard to get your hands on, and they signpost that you're in the know."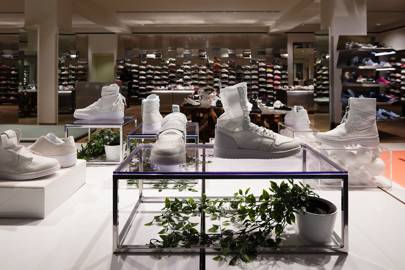 In particular, Selfridges has doubled the buy on Balenciaga and Alexander McQueen. Robinson says the Triple S will take the lead as the most coveted trainer of the year. "Right now, supply can't keep up with demand. We're yet to be able to display a pair on the floor as they have already been pre-sold via a waiting list.
Can't stretch to £595 for a pair? It isn't just Balenciaga whose shoes are enjoying sell-out status. At Kurt Geiger, fashion trainers are now the biggest-selling category, overtaking boots in both volume and sales. Its trainers range has grown by over 30 per cent this season on the back of the astounding success of Carvela's Lamar trainers, of which Kurt Geiger sold two pairs every hour last year. From Feburary 22 the brand is launching a dedicated trainer shop online and in its flagship Covent Garden store.