Pictures emerged of Her Majesty exploring the BFC Show space, alongside Caroline Rush and Dylan Jones, before heading to Richard Quinn's autumn / winter 2018 presentation, where she sat alongside Rush and Anna Wintour on the front row. A plush blue cushion was placed upon her seat along with the show notes, and throughout the show she made comments to both her front row companions. The AW18 looks accessorised with motorcycle helmets garnered smiles from her.
The royal family confirmed via Twitter that the Queen is "visiting London Fashion Week today to present the inaugural Queen Elizabeth II Award for British Design." The award initiated in recognition of the role the fashion industry plays in society and diplomacy, will be awarded annually to an emerging British fashion designer who shows talent and originality, whilst demonstrating value to the community and / or sustainable policies.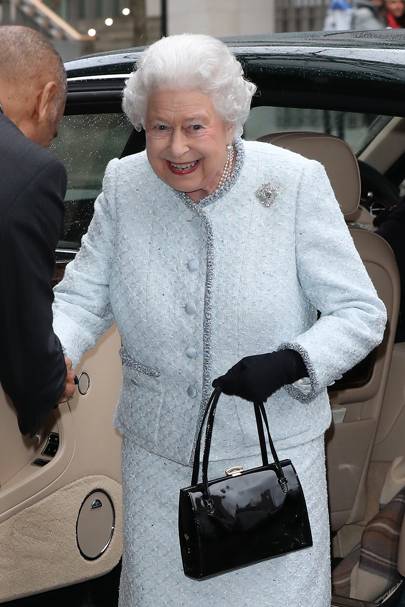 Handing the award to Quinn she commended his work as "wonderful". Sarah Mower added: "We wanted it to be a surprise. It's so special for him, he's built this amazing business, he's a working class boy, his parents, who are here, are scaffolders. I love the prints and it all just felt so perfect with the scarves. I was a tiny bit worried he might do the gimp masks but luckily that didn't happen."