During Fashion Revolution Week - as the world remembers the victims of the 2013 Rana Plaza tragedy and asks how the fashion industry should ensure the safety and morality of the production and distribution process - Vogue meets Cary Vaughan and Jenna Wilson; the founders of a brand with a mindful and measured approach. Ace & Jig creates handwoven nostalgic pieces in a factory in India that sets the bar high, both for textile quality and for the quality of life of its workers. The limited run of each special weave means that products are highly sought after among fans, creating online forums and real-life swap-meets that any designer brand would be flattered by.
We wanted Ace & Jig - which stands for our first borns' initials; Ace is Cary's daughter Alice and Jig is Jenna's son James - to be a textile love story: this marriage of artisanal custom fabric with our favorite silhouettes. You know when you go into the most amazing vintage store or a gorgeous home full of pattern, colour and textiles and you are on sensory overload in a good way? That is what we wanted our line to be like. Surrounded by texture, depth, colour, soul, passion, nostalgia - this was our direct motivation! And of course the glamorous sweat and tears of owning our own business, venturing into the unknown and creating our own path was enticing. We met as interns in SoHo years ago and have worked together, lived together, cried together, and laughed together - we share the same values and morals and our strong friendship has always been the core of this line.
We originally started creating fabric in a teeny tiny corner of a basement studio in New York's East Village at night. Only at the time, we were making dresses and blouses out of antique lace. We had collected endless amounts of vintage lace, neatly categorised by width, and spent countless evenings draping and forming these pieces that were literal works of art. We soon realised we were not going to be able to quit our day job anytime soon. The most important takeaway was our shared vision of creating cloth that felt worn in and loved - like an heirloom piece to cherish and pass down. After searching all over we found a partner who shares this textile passion in India. When launching Ace & Jig, instead of focusing on a full-blown line of multiple materials such as knits, denim, and wovens we decided to just pick one focus for our brand. This was in 2010, and at the time it was an unusual concept for a collection. Our singular focus was met with scepticism at first, but gradually we became known for our textiles. Ace & Jig was born, a line of effortless yet striking women's clothing here to stay.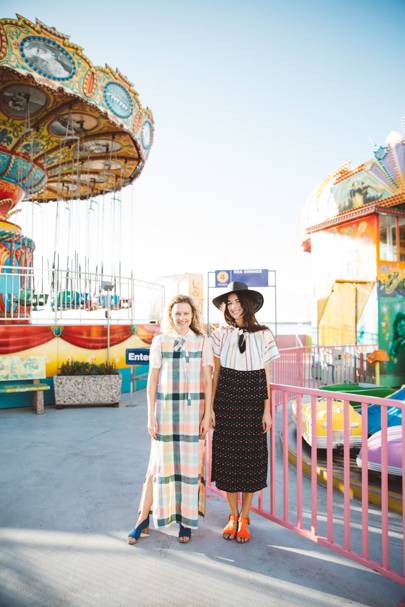 The way your brand produces is very unique – what do you want people to understand about Ace & Jig?
We make textiles stories! Our signature textiles are one of a kind and all are woven yarn-dye fabrics. Creating our own fabrics is a really long technical process that needs constant attention and revision. Many people call our fabrics "prints" but that is not the case. We only create fabrics woven by looms in India. Our process starts with the harvesting of cotton at the cotton farm and seven months later it is made into clothing. Produced by a family-run textile manufacturer who shares our same ethos; each fabric has its own story to tell.
The label was founded by and is still run by women, how does this influence the way you do business?
Having both worked in the fashion industry for years before we started Ace & Jig, we easily identified the kind of environment we did not want. Today we have an open and flexible working environment. We are lucky we have attracted kind, caring and passionate people and that is really the most important thing. We recently took our whole team in a vintage blue VW bus on the ultimate road trip down the California coastline for some team bonding and community spirit. Did this include an amusement ride stop at Santa Cruz's famed colourful boardwalk? Um, yes! Did we also work our tails off setting up community events along the way including raffles to support the American Civil Liberties Union, swap events and lots of wine and cheese plates? You bet! We have two studios: one in Brooklyn, NY, and one in Portland, Oregon. Our hard-working, talented, bi-coastal team excels at multitasking, positive vibes and non-stop talking and sharing. Women power is a tangible and strong force for us as a team and for our community at large.
Tell us about your production network – I understand it's very self-sustaining?
Our process takes many hands and is a true labour of love. The art of weaving has a deep cultural history rooted in India and knowledge is passed down from generation to generation. From dying the yarns on the rooftop to achieving just the right textural effect with slub yarns, our fabrics are a collaborative process working one-on-one with the weaver. Our manufacturer practices the kaizen Japanese philosophy of proactive continual improvement and this has its effect on many levels. Whether it is recycling the water from the washing process and reducing the negative impact this has on the environment to having free childcare for its employees, to offering free organic fruit and vegetables from the surrounding garden, we feel very lucky to work in this nurturing, caring and transparent environment.
Your pieces have a real signature to them – in the shapes as well as the fabrications – how would you describe your aesthetic? And who is the woman that wears your brand?
Part of our aesthetic is defined by our custom fabrics, a consistent visual platform that sparks innovation each season. Our strong identity is rooted in a whimsical, sophisticated, colour-rich pattern mix that highlights our timeless silhouettes. The Ace & Jig wearer is a conscientious consumer who wants a stand-out identity. We have many different kinds of women, all ages, all backgrounds, all walks of life who wear and collect Ace & Jig. They are all people who appreciate textiles and the rich history and soulful meaning they evoke. Someone who looks at clothing as a way to add colour, humour, and a little joy to the world.
You have a following of very loyal fans – tell us a little about what you know about the community and the way they interact.
We honestly have the most thoughtful and best fans! These are women who have met through their shared love for Ace & Jig and have created this amazing community which supports each other. Serious long-lasting friendships have been made through our brand. We are floored by their kindred spirits and the stories they share with us. There are swap-meets, bonding lunches, and shared road trips. There are women coming together to buy a friend an art easel, to help track down another's "unicorn" item, to buy flowers for our team who excel at customer service! It is so inspiring to us to see this authentic community and brand loyalty grow from the ground up. There is a genuine Ace & Jig movement going on and we are honoured to be surrounded by these women.
The clothing you create is never repeated – how does this benefit you as a brand?
We create around 25 new textiles each season and once they are gone, they are gone. Then that volume is closed and on to the next chapter and sources of inspiration. The constant evolving and innovation are what we love about fashion. Each season we are challenged by the parameter of the warp and weft technique. How can we do this differently? How do our styles reflect what we want to be wearing right now? Our process is truly unique as we have to anticipate the amount of fabric needed before our collection is even shown to buyers. This is not a perfect science and we don't always get it right, but we try our best. We do have avid collectors of our textiles and somewhat of a cult following! We also maintain a strong no-waste intiative: to use all of our scrap leftover fabric from the cutting room floor. This usually manifests in creative ways – many limited-edition fun partnerships with other artist friends.
What are your main concerns as you grow – is there a limit to where you can take the business considering your production network is so homespun?
It's important to us to not just create more and more product just for the sake of growth. We have self-imposed limitations because we want to try to have that ultimate balanced lifestyle that everyone is seeking! We built our infrastructure to handle measured growth, but we want to grow thoughtfully. We want people to treasure their Ace & Jig pieces and keep them, swap them, rework them or pass them down.
What is the next step for your brand?
We are really focused on our product and growing better not bigger. There is always room for improvement, reducing waste and giving back. Always a focus is quality of life, creativity, and community.